But some may be wondering just why she was flown to a hospital 4,700 miles away from where she's being cared for in Rawalpindi, Pakistan.
The answer is that the hospital she'll be admitted to is one of the world's best at dealing with gunshot wounds.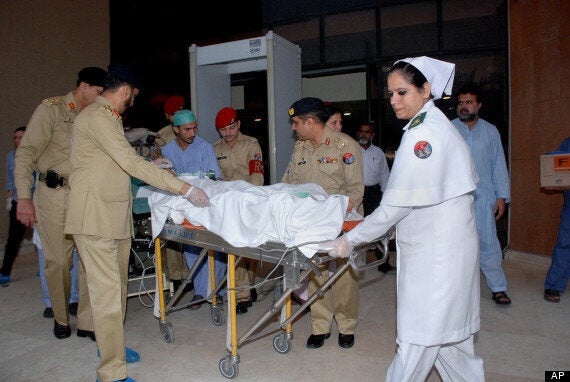 Malala is transported to an airport in Rawalpindi for a flight to the UK
Queen Elizabeth Hospital Birmingham is a dedicated Major Trauma Centre and is where every British soldier severely injured overseas is treated.
Doctors at the hospital are among the world's best at treating major head injuries, severe knife or gunshot wounds and spinal injuries.
Opened in June 2010, the £545million facility boasts state-of-art equipment, 1,213 inpatient beds, 32 operating theatres and the largest single-floor critical care unit in the world, with 100 beds.
Doctors at Queen Elizabeth will assess Malala's condition and plan how to help her recover. It's thought that some reconstruction work may need to be carried out.
Dr Anders Cohen, Chief of Neurosurgery at The Brooklyn Hospital Center, explained that Malala Yousafzai's age is in her favour.
He told Huffington Post UK via email: "The brain is like real estate. Location is everything. Based on the information we have, it appears that Malala was shot from the front down diagonally, but we don't know what part of the brain the bullet went through, whether it crossed the midline and hit any vessels, or whether the bullet passed through the right or left side of the brain.
"On the positive side, Malala has passed two major hurdles: the removal of the bullet and the very critical 48 hour window after surgery. She's also showed some response, which is cause for cautious optimism, but she has a long way to go. Her age is also in her favour. A young person's brain has more recovery ability than an older person."
Foreign Secretary William Hague said the UK was standing "shoulder to shoulder" with Pakistan after the attack.
"Last week's barbaric attack on Malala Yousafzai and her school friends shocked Pakistan and the world. Malala's bravery in standing up for the right of all young girls in Pakistan to an education is an example to us all.
"Malala will now receive specialist medical care in an NHS hospital. Our thoughts remain with Malala and her family at this difficult time.
"The public revulsion and condemnation of this cowardly attack shows that the people of Pakistan will not be beaten by terrorists. The UK stands shoulder to shoulder with Pakistan in its fight against terrorism."