Okay, so new-on-the-scene Too Many T's are a fair way off the Beastie Boys' 40-million-albums-sold mark – for starters, their first EP isn't even out yet.
But the popularity of this English rap duo is soaring, rapidly.
And it's no wonder, because they certainly have the swagger, verbal dexterity and fun-factor of the legendary American group.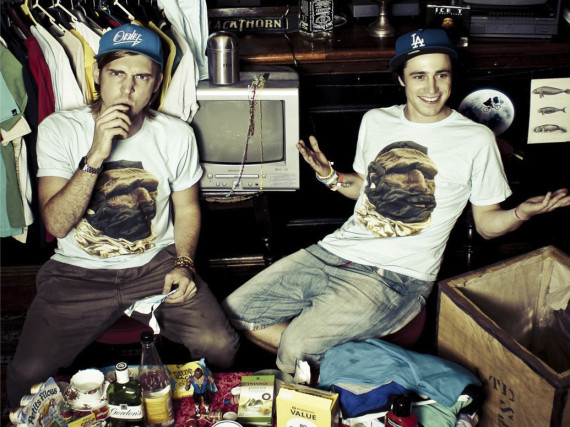 It's a rap: Too Many T's' Standaloft (left) and Leon Rhymes
The Huffington Post UK witnessed London-based Leon Rhymes (real surname Smith), 29, and Standaloft (first-name Ross), 25, at Cheltenham's Wychwood Festival this summer, entertaining a crowd with mesmeric rapping gymnastics, brilliant banter and demonstrating big-star stage charisma.
Since then, they've been championed by DJ Rob da Bank and have barely paused for breath between gigs up and down the country, including an appearance at Bestival in the Isle of Wight.
Luckily, we managed to pin them down in a boozer in Camberwell, their home turf, for a quick chat.
The first thing that's apparent, is that these two are just as jokey and likeable off-stage as they are on – it's hard to imagine them ever rapping about traditional hip hop themes like guns and murder.
The path they've chosen is speed-rhyming over catchy, instrumentally driven tracks with a retro production. And throwing in amusing skits whenever possible.
"We do spend a lot of time working on jokes, just because rap is so f*****g serious," says Leon.
"I think we have natural banter," nods Ross.
Their influences are, predictably, on the un-gloomy side.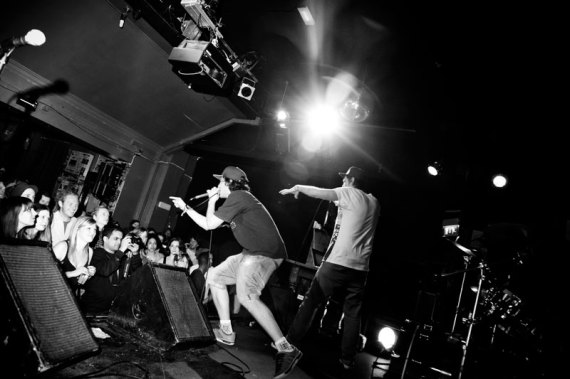 Too Many T's have a definite Beastie Boys' swagger
"I like Eminem, Beastie Boys, Jurassic 5, De La Soul," says Leon. "Ross is into old-school hip hop, like early Big Daddy Kane and Souls of Mischief.
Ross adds: "Yeah, it was a bit before it all went kind of gangster. It was all really positive and fun.
"In the 1980s it was just about flowing over a beat. Similar to what we do, but we've had the benefit of an extra 20 years of other rappers who we've been able to draw inspiration from."
These guys are clearly purists, so when asked if they'd ever do 'Britain's Got Talent', the answer is an unsurprising "no".
But Leon did once flirt with the show while he was in the group called Queen's English and describes how they were chased by the show's producers.
"They hounded us for months to come on and do it," laughs Leon. "So in the end we were like 'for f**k's sake we'll come and do it then'.
"It was really weird. We were basically going to go through, but when they were interviewing us, they asked: 'What would it mean to you to win 'Britain's Got Talent'?' And we were like: 'It wouldn't mean anything! You've begged us to come on here.' Definitely wouldn't do that again."
Leon and Ross have been together for around a year now as Too Many T's and have been hard at work on a free "mix-tape" that's likely to leave talent-show producers feeling rather frustrated.
Called 'Earl Necks & Round Grey', the lads say it's a mixture of new tracks and mash-ups of older songs, plus a few skits ("We've probably spent longer thinking about the bits between the tracks than the actual tracks") featuring remixes of Mr Oizo, Snoop Dog, Caravan Palace, DJ Format and more.
But HuffPost UK devotees can listen to an exclusive sneak preview of four of the tracks by clicking here.
Tomorrow, this link will host all 14 tracks. A free party to celebrate the release is being held at Brixton Ritzy from 8pm on Friday 19 October.
Their first EP is out on 26 November.