Firstly, let us apologise for the fact that you can never now unsee this photo below: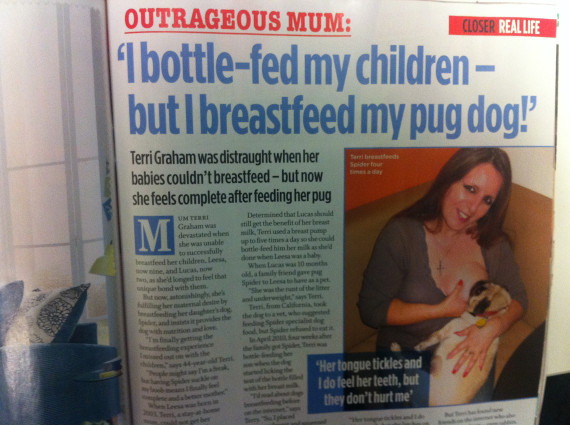 Secondly, let us just scream: "TOO MUCH INFORMATION!"
Yes, welcome to the world of Terri Graham, a 44-year-old mother of two from - you guessed it, California - who breastfeeds her pet pug, Spider.
"I'm finally getting the breastfeeding experience I missed out on with my children," Graham tells the 20 October issue of 'Closer' magazine. "People may say I'm a freak, but having Spider suck on my boob means I finally feel complete and a better mother."
Erm, whatever you say, Terri!
Graham first started breastfeeding the "runt of the litter and underweight" Spider when the pug started licking the teat of the bottle she had filled to breastfeed her son... And the rest is rather bizarre history.
"Her tongue tickles and I do feel her teeth, but she latches on in a way that they don't hurt me," she explains. "I breastfeed Spider in front of the kids and they think it's amazing."
Well, yes, amazing it is. But is 'being breastfed' as amazing as the dog tricks below? Actually, don't answer that. In fact, it's probably best not to think about it too much at all...