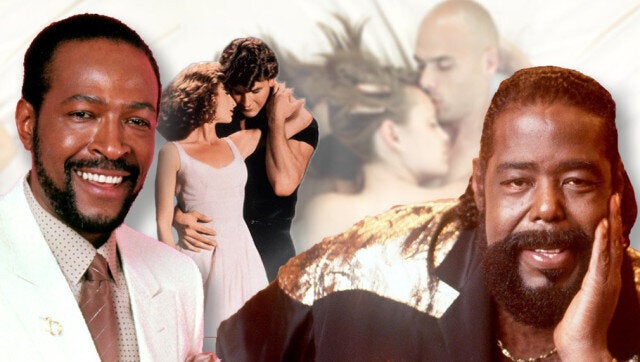 'Dirty Dancing' has been revealed as the capital's favourite intimacy-initiating, sexual scene-setting soundtrack for some good ol' fashioned love making, according to a Spotify-sponsored poll of 2,000 Londoners.
Yes, that's right, 'Dirty Dancing'.
A majority of those polled by Science Behind the Song enjoy getting down to business to such 1987 classics as 'She (goes?) Like The Wind', (please?) 'Stay' and the rather presumptuous, 'Time Of My Life'. Patrick Swayze, portraying Johnny Castle, and Jennifer Grey, portraying Baby Houseman in Dirty Dancing
Other faves included Marvin Gaye's 'Sexual Healing', Ravel's 'Bolero' and Top Gun love theme 'Take My Breath Away' by Berlin.
Dr. Daniel Müllensiefen, a music psychologist who led the study said: "It is no surprise that so many respondents claimed to find music arousing in the bedroom.
"From neuro-scientific research we know that music can activate the same pleasure centres of the brain that also respond to much less abstract rewards such as food, drugs, or indeed sex."
Throwing the question open to the HuffPost office revealed some to-be-expected classics ('Love To Love You Baby' by Donna Summer, 'Move Closer' by Phyllis Nelson) as well as some more 'unusual' suggestions ('Vibrator' by Motorhead or Wagner's 'The Ride of the Valkyries' anyone?) as well as one person who demands strict silence.
Added to that was this little anecdote: "My friend once told me he wrote a 'sexual symphony' to accompany his love making, which included a post-coital section when he and his love partner would 'smoke a cigarette'."
LISTEN:You can view all these picks on our Spotify playlist below.
Please feel free to suggest your own which may receive the dubious honour of being included.