A High Court judge has raised concerns about "desperate childless parents" being caught up in "strange" baby-selling scams in Africa.
Mr Justice Coleridge said there was evidence that women were going to Nigeria seeking fertility treatment then being sold unwanted babies "for very substantial sums of money" after fraudsters had tricked them into thinking they had become pregnant and given birth.
He said there was more than one case "featuring almost identical facts" before English courts, described the situation as "very serious" and questioned the "lack of involvement" of Nigerian authorities.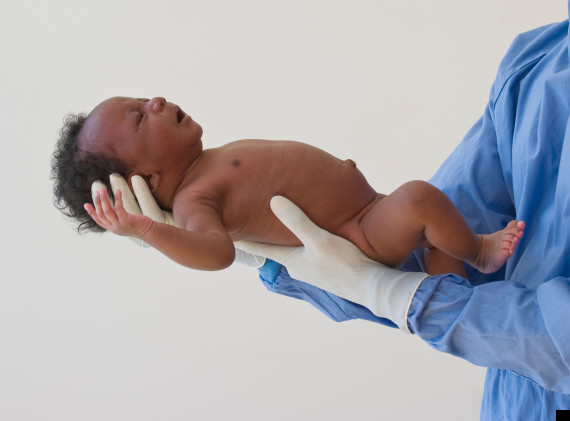 'Desperate childless parents' could be caught up in baby-selling scams in Africa (stock photo)
In his written ruling, the judge said the couple involved were members of a charismatic church and had a "strong faith and belief in the power of prayer".
The judge raised concerns after giving journalists permission to report details of one case aired before him in the Family Division of the High Court.
Mr Justice Coleridge said the case - involving a Nigerian couple from London - was "very worrying" and gave rise to "very real public interest".
And, at a hearing in London, he agreed to release parts of a written ruling he had made on the case to reporters.
"I am entirely unsurprised by the media interest," said Mr Justice Coleridge, at the hearing. "This is a very serious situation."
The judge added: "It is not the only case, on almost identical facts, before the courts at the moment. It certainly gives rise to very real public interest, particularly the lack of involvement by the Nigerian authorities."
He went on: "The circumstances in this case are completely unusual, very bizarre and truly worrying."
The judge said the woman was "immersed in a Christian religious environment where miracles are not regarded as impossible".
"All the mother's actions, in my judgment, both in this country and Nigeria, are consistent with her evidence that she had no idea she was involved in this strange scam, designed to put together unwanted children with desperate, childless parents. Her complete desolation when confronted with the reality, as attested to by ... the police ... supports her credibility," he said.
"I am totally satisfied on an examination of all the evidence that this mother had no idea she was taking part in bogus fertility treatment, much less an elaborate and well-tried system for selling unwanted babies to desperate parents in exchange for very substantial sums of money.
He added: "Both she and her husband were hoodwinked and are innocent victims so far as their involvement in these matters is concerned. They neither knowingly participated in the wrongful removal of the child from her natural mother nor in the wrongful importation of her into this country.
"The highest it can be put, as I find it, is that the mother unwittingly took part in an unorthodox adoption process surrounded by an elaborate piece of play acting."
Mr Justice Coleridge's written ruling outlined evidence from the mother and arguments from UK local authority social workers responsible for child welfare.
The woman told the judge she regularly travelled to Nigeria to visit family.
She said she underwent fertility treatment in Nigeria after paying about £6,000, then "gave birth" to a girl and returned to the UK.
The woman said she was "shattered" when DNA tests instigated by social workers and police in England showed that she and her husband were not the baby's biological parents.
She said she "gave birth" in January 2011 at the God's Gift Clinic in Port Harcourt, Nigeria. The woman said fertility treatment started in late 2009. She said she had been cared for by a doctor called Chineri Emica Precious, who had given her "a number of injections and tablets and capsules".
The woman said she started to feel "symptoms of being pregnant" in April 2010, including "bloated stomach and gaining of weight". She said she returned to Nigeria that month and Dr Precious "confirmed" she was pregnant.
In May 2010, a GP in England said she was "not convinced" that the woman was pregnant, and a scan at a UK hospital in September 2010 showed no pulse or heartbeat from a baby.
But the woman told Mr Justice Coleridge: "I kept up my line of communication with Dr Chineri Emica Precious in Nigeria, who assured me that it was not unusual for the baby not to be seen on the scan. Also, I was reassured by the testimonies of others who had had the treatment before (my sister and a friend).
"I returned to Nigeria in October 2010 to see Dr Chineri Emica Precious who informed me, conversely to what I was told in England by my general practitioner and scan results, that I was pregnant and she continued to treat me with injections and one big medication. I assumed that this continued treatment was in order to maintain the pregnancy. I had no reason to doubt her sincerity or expertise in this regard.
She added: "In November 2010 a church pastor, like other people around me, including my husband, asked me if I was pregnant as he saw that my stomach was bloated as if I was pregnant and I had gained a substantial amount of weight."
The woman told the judge: "In January 2011 during what I perceived to be the birth of the baby, I recall a doctor inducing labour through intravenous drip and I experienced what was labour, a very traumatic delivery and a baby was presented to me covered in blood as would have been normal in a delivery room.
"I felt all the natural manifestations of labour and delivery and my baby was presented to me. Subsequently, when both the Metropolitan Police and (UK social workers) suggested a DNA test, I fully co-operated and was not in any way concerned as to the outcome as I knew I had given birth to a baby. I had named her as was customary and obtained a birth certificate for her."
She added: "Since ... we were informed of the DNA results that suggested that we were not the biological parents of the baby ... my whole life has been shattered."
Mr Justice Coleridge said local authority social workers had argued that the woman's version of events was unbelievable.
A lawyer representing social workers had made submissions which included the frequent use of "incredible, implausible, far-fetched and highly improbable".
"The local authority's case is quite simple," said the judge.
"They say it is simply unbelievable that the mother could have gone through this process without at some point appreciating what was going on, especially as in England she had received clear medical confirmation that she was not pregnant. I should be very slow, they urge, to swallow this story."
But the judge said he had concluded that the woman and her husband had been "hoodwinked".
He said he had been shown evidence gathered by an investigative journalist in Nigeria and a September 2011 report from the Port Harcourt Vanguard newspaper, headlined: "Baby Factories: how pregnancies/deliveries are framed".
The report said maternity homes used "illicit means" to procure babies for childless couples for "huge amounts of money".
It said clinics administered substances that "form a sort of tumour in the womb" making women think that they were pregnant.
Another substance was administered to give a "false impression of labour" and a "baby is then sneaked in and made to cry", the report added.
"There are a number of case studies set out in the course of that lengthy, double-page article," added Mr Justice Coleridge.
"Having seen that article, there cannot be any doubt at all that this far-fetched story is rooted most solidly in reality and that this kind of practice is common in certain parts of Nigeria."
Mr Justice Coleridge said the baby the woman brought back from Nigeria had initially been taken into foster care.
But he said he had agreed that the little girl could now live with the woman and her husband.
He added that the couple would be the child's guardians.
"The most important thing is to get the child settled into her final home," said the judge.
"She has no connections to anybody in this country as far as we can tell, or indeed to anybody in the world."
The judge said the woman and her husband were a "charming" couple who had been together for nearly 20 years.
He said he had been "very impressed" with them and was satisfied that they could provide the little girl with a stable home.
In 2011, authorities freed 32 pregnant teenage girls from a 'baby factory' in Nigeria.
They told police they had been offered over £100 cash for a baby.