Pippa Middleton changed outfits four times as she celebrated her book launch in London on Thursday.
The 29-year-old wore dresses by Stella McCartney, Roksanda Ilincic, Markus Lupfer and Paper London.
The Daily Mail estimates the four dresses have a combined cost at least £2,959, although it is not known if Middleton paid for them.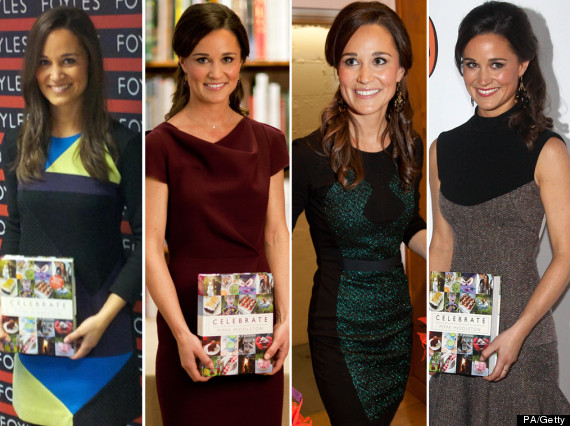 Dressed for success: Pippa Middleton
Speaking outside the launch event in west London, she told journalists she felt "really, really nervous".
She said: "I feel incredibly lucky to be in this position to publish a book. It's been a crazy few years since my sister's wedding.
"It's had its upsides and its downsides and I feel really fortunate to build a career as a writer."
Celebrate: A Year of British Festivities for Families and Friends, has been described by publisher Michael Joseph, an offshoot of Penguin, as a book "packed with recipes, crafts and inspirational ideas"
It claims to be "a one-stop guide to entertaining throughout the British year" and aims to help readers plan a variety of events from Christmas and Easter to family birthdays, brunches and picnics.
The 416-page glossy hardback, which features photographs of Middleton engaging in party planning activities like cooking and decorating, has hit the shelves today and is on sale for £25.