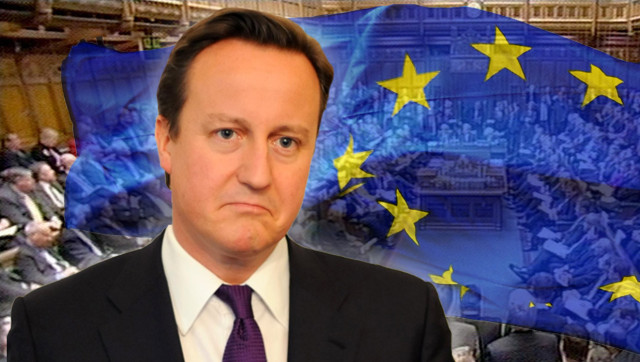 Getty/PA
David Cameron was handed a bitter defeat by his own MPs over the EU budget, with Eurosceptic Tories conspiring with Labour to deliver a victory over the EU budget.
Tory MP Mark Reckless' amendment asks the prime minister to call for a cut to the EU budget when he attends the negotiations, instead of Cameron's preferred tactic of arguing for a budget freeze.
The amendment was voted through by 307 votes to 294, although the vote is not binding on the Prime Minister. The real result of Wednesday vote is to show up how little control Cameron has on many MPs in his own party.
It was 51 Tory MPs who delivered the defeat, including Douglas Carswell, Bill Cash, David Davis, Zac Goldsmith, Bob Stewart and Nadine Dorries.
One leading Conservative rebel, Peter Bone, hailed what he called a "remarkable victory".
"Parliament spoke for the people," he said. "There was enormous pressure on colleagues to vote with the Government.
"It was a very significant victory for the people. It was because MPs have to face their constituents."
Among ministers, there was fury at the way Labour had, in their view, switched position to outflank the Government on its most vulnerable issue.
For Labour, jubilant shadow chancellor Ed Balls said: "This is a humiliating defeat for David Cameron which shows how weak and out of touch he has become.
"The Prime Minister wanted to say the EU budget should rise in line with inflation, but has been forced by Labour MPs and his own backbenchers to seek a real-terms cut."
It was a blow for new Chief Whip Sir George Young, who replaced Andrew Mitchell just 13 days ago.
The vote over the budget has been uncomfortable for some Labour MPs as well as some Tories with a senior Labour MP appearing to lash out at Ed Miliband's decision to join forces with Tory rebels over the vote.
Margaret Hodge was heard describing a vote as "hateful" as she prepared to chair a meeting of the Commons public accounts committee.
Her remarks to colleagues were picked up by microphones broadcasting the hearing on the internet.
"I hate this vote. I do not want to do it. It's hateful," she said.
"I just think it's outrageous. I'm almost wanting to abstain."
Hodge declined to comment after the meeting.
Tory backbencher Cash, who chairs the European Scrutiny Committee, earlier Wednesday condemned the EU for demanding more cash.
"The money comes from the taxpayer, it doesn't grow on trees - that's what they don't understand," the veteran eurosceptic told MPs.
"They are living on another planet, that's the real problem."
He said the budget process was "based on nonsense; it's an Alice in Wonderland fantasy", and claimed European Commission president Jose Manuel Barroso's recent speech calling for federalism showed the Prime Minister the choice facing Britain.
"It has put us at the crossroads. We cannot continue to assume that that which was being considered before that date still applies now; we are on a different journey.
"The reality therefore is that we have got to take a stand, and that is what this is all about."
He added: "The European project is a failing project. They won't recognise it, so what are they doing?
"They're saying, 'We are going to go on and have a federal Europe'.
"Well, let them have it. They can have their federal Europe if they want, but we in this country cannot possible be part of it, it is unthinkable.
"The Prime Minister knows it is unthinkable."
Labour's former Europe minister Chris Bryant backed the Tory amendment, questioning how MPs could justify spending cuts in the UK while the EU budget rose.
Bryant said: "How can we possibly go back to our constituents and say to teachers and fire officers and police officers and all the rest, 'We want to give more money to the European Union, but you have got to live with a pay freeze, with a smaller amount of money'?
"I just do not see how I could possibly argue that."
Following the vote, Europe Minister David Lidington rounded angrily on Labour.
"For the Labour Party to become a convert to fiscal discipline is at odds with everything that they did in government. They didn't ask for even a freeze, let alone a cut," he told BBC News.
Foreign Secretary William Hague said ministers would "hear and take notice" of what Parliament had said but indicated that the Government would not change its negotiating position.
"We are already going for the toughest position any prime minister has ever gone for in EU budget negotiations. He will continue to seek the best possible deal for the British taxpayer," he told BBC News.
Earlier on Wednesday Ed Miliband accused David Cameron of being a "weak" leader.
Speaking during Prime Minister's Questions, Miliband mocked Cameron's inability to control his own MPs.
"He can't convince European leaders, he can't even convince his own backbenchers. He is weak abroad he is weak at home, it's John Major over again," he said.
He added: "How can he be giving up on a cut in the EU budget before the negotiations have begun?"