The Amazon Kindle Fire HD doesn't feel like a tablet computer. Not really. What it actually feels like is a Kindle e-reader that someone has slowly added pieces to, bit by bit, until it can do almost everything a tablet can but in a way that only makes sense if you know what it used to be.
The result is that while this is an affordable, solid, nicely specced machine, compared to its nearest rivals - in both form factor and price - it's a bit of an oddity, with awkward software and ugly hardware which feels just as budget as its price indicates.
Budget, or good value? Maybe it depends on your perspective. For just £159 you're getting an excellent display (1280x800 pixels) with the ability to display beautiful colours with little glare and a wide viewing angle. Movies look fantastic and with dual-band WiFi and a 1.2Ghz dual-core processor it runs smoothly.
The cheapest model has 16GB of storage, and you can bump that up to 32GB for an extra £40. It also includes a front-facing HD camera, an HDMI port, a good 10-hour battery and free cloud storage. Dolby audio and dual-driver speakers mean that it sounds better than most mobile devices right out of the box, and overall in specs it's definitely impressive.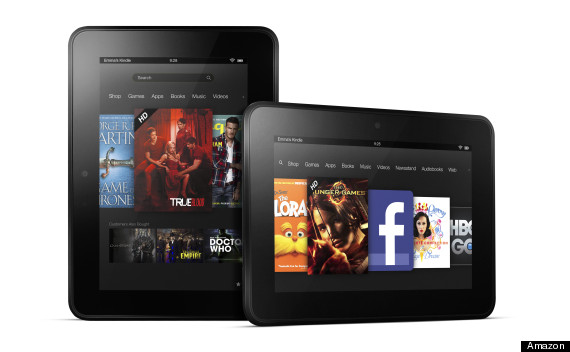 As a physical object, though, it's really quite ugly. With thick bezels and a cheap rubberised backplate, it's a really generic piece of hardware. But unlike the Kindle Paperwhite, it doesn't blend into the background while you're using it - this is a heavy (395g) black, slab. It's uncomfortable to hold in one hand for long periods, and it clunks when you put it down. Which you will - a lot. The buttons are hard to find, and difficult to press. Compared to the iPad Mini, for instance, it's just inelegant.
The software, too, feels like a blunt, heavy object. It's based on Android 4.0, but instead of a familiar homescreen of app icons or widgets, you instead have a rolling carousel of all your content - curiously large apps icons, movies box art, book covers, web pages - plunked in the centre of the screen. Below it is a list of "customers also bought" suggestions (adverts), and above a list of other functions divided into apps (Games, Apps), media (Books, Videos, Music) and cloud services (Docs, Web). There is also a favourites bar, to give you quick access to your most-used items.
Under Apps you get a standard email client, Skype and a calendar, as well as OfficeSuite. These are all usable, but only in a pinch - you aren't going to want to use this for getting things done, and it doesn't feel as though the Fire HD actually wants you to anyway. Only the Silk browser impresses, and that's mainly due to its cloud cache-aided speed than its features or design. Even then, occasionally it seemed a little sluggish.
As for other apps, you'll have to go via Amazon's own App Store for those - and due to Amazon's policy of carefully pruning which apps to include there isn't a huge amount on offer. It lags behind iOS and Google Play in terms of variety of games and other software, and you'll struggle to stay on top of the latest trends. And even once you've downloaded them, you'll probably have to scroll past pages of books, ads and other OS-impediments before finding them.
What the Kindle Fire HD does well is get you buying media and using it in an uncomplicated, presentable way.
The Amazon store, while oddly sluggish at times, is deeply embedded into the OS and the book reader, movie player and music app are all excellent. The X-Ray feature shows you information about the movie you're watching from IMDB, while the books app gives you highlights, author info and other details. For users with existing investments in Amazon's media offerings, for instance Lovefilm, as well as books and music, it's a good deal. Unfortunately some of its best features in the US - free video streaming with Amazon Prime accounts, weren't available in the UK when we tested the product.
Overall this is a product which feels a little half-baked - which is unfortunate considering its name. It's certainly a solid and competitive offering in terms of price and specs, but if you already own a tablet it's difficult to recommend buying this too - and if you don't have a tablet there are better options out there.