Mo Farah is as relaxed as you would expect a two-time Olympic gold medallist to be when he takes his seat, but his renowned modesty remains in tact too. Despite emerging as one of Team GB's great success stories in July and August 2012 and a hectic schedule, he is at ease with his post-Games status, clad in a grey tracksuit and slurping a fruit drink.
Farah's wins in the 5,000 and 10,000 metres arguably compete with one another for what will be remembered as the most cherished moment of the 30th Olympiad. From arriving in the UK as an eight-year-old Somalian to sharing a podium with Usain Bolt, the reverence for him has rocketed.
Medals, the Mobot and twins [his wife Tania gave birth shortly after his Olympic wins] are bound to have changed his life.
"It's definitely changed a lot in terms of how busy life is," he explains with a hint of surrealism at the newfound recognition. Farah celebrates his first gold at London 2012
"It's one of those things you don't imagine because it's not just about winning. It's winning and other stuff, like going on shows. Life has been busy but it's been brilliant."
While the nation revelled in London's first Olympics since 1948, Farah, whose two races fell on the Games' second and third Saturdays, isolated himself from the hullaballoo of the Olympic Village on orders from his agent.
"He told me 'go home and rest'. People would bring food to my room rather than me going to the canteen and wasting energy by talking to people and I'm glad I did that," he remembers without a flicker of the prima donna.
Athletics remains Farah's priority despite new opportunities. His agent reveals they are in talks with the BBC over participating in a Superstars Christmas special, but the 29-year-old is already eyeing Rio 2016. And he hints he would prefer to race in the marathon rather than defend his two titles.
"I don't know if I'll aim to retain the two titles. I don't know what the plan is," Farah, who will be 33 when Rio takes place, admits.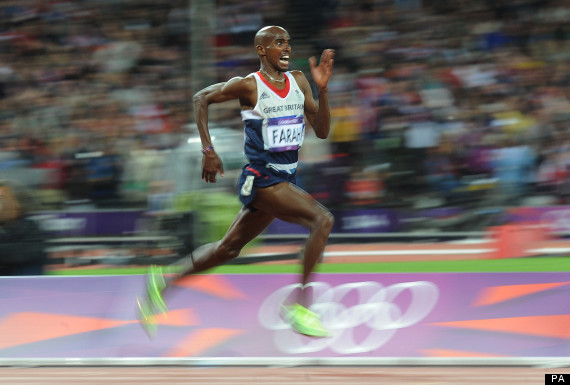 Farah will be remembered as one of the icons of London 2012
"As an athlete you want to be able to choose something that you haven't already achieved. Is it different distances or do you come back and defend your titles? It depends what your coach says. Do I do different distances or do I do the marathon?" When pressed on what he would prefer he bullishly states "the marathon". His hunger hasn't diminished.
And on the topic of hunger, what does the Mogadishu-born athlete gorge on ahead of a race?
"Sweets," he says with relish. And he is also quick to defend the consumption of junk food.
"You try to eat a decent meal. People take out McDonald's to a certain level. If your body needs certain food you have to give it to it. And as an athlete if I'm doing 100 miles a week and working out, if I eat bad food one day it's not bad for me because I burn it off. But for normal people it's over 1,000 calories in a certain amount. For me and other athletes, we're all burning off so much, so it doesn't matter so much."
Anonymity is an issue now. Farah became one of British sport's most recognisable faces overnight and has not returned to train at Nike's Port Oregon camp since London 2012. Although comfortable with the perks of fame he has been afforded, he delivers a sincere and blunt "hope not" when it is suggested he may now be identified Stateside.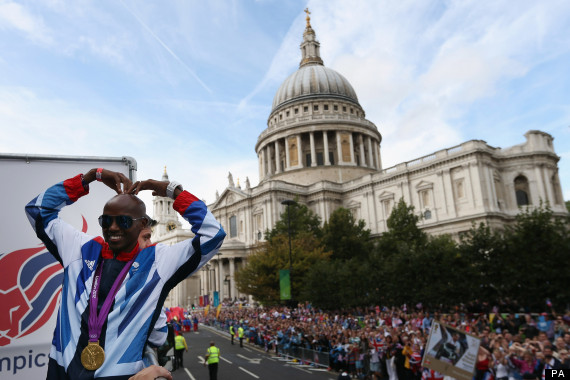 Farah does the Mobot during Team GB's victory parade in September
The advantage is he can generate greater exposure for his charitable projects in Somalia, where he is yet to visit since his double-Olympic win.
"I'd love to work with children," he speculates. "I've set up the charity and that's going well. We've got a lot of projects we're doing in Somalia so I'd like to see how we're doing there." The Olympic Legacy is on his mind too, as he modestly remarks "hopefully we will have left something behind".
That unmistakable smile flashes constantly during our conversation but it is none more broader than when he remembers his step-daughter Rihanna dashing towards him after the 10,000 metre win.
"She said 'Daddy! Daddy!' It was quite touching. It was brilliant. I just tried to give her a hug," he recalls fondly.
It was the first time the Mobot appeared at the Olympic Stadium, too. James Corden and Clare Balding jointly suggested the pose on A League of their Own, but Farah is compelled to credit London 2012's showman too.
"Bolt put the Mobot on the map to be honest with you!" he giggles. "He's just an amazing guy." Farah and Bolt on the penultimate day of the London 2012 Games
Now a worldwide sensation, I remark that a friend who is a sports teacher has her pupils recreate it when passing the finishing line. It has been imitated so often, so is a change in the offing? "I'll probably stick with the Mobot. I'm happy with how it's gone," he proudly proclaims. Has there been another celebration he enjoyed at all?
"Do you remember Faustino Asprilla [the mid-90s Newcastle United striker]? I loved the way he used to do that [he mimics the move] at the end of it!"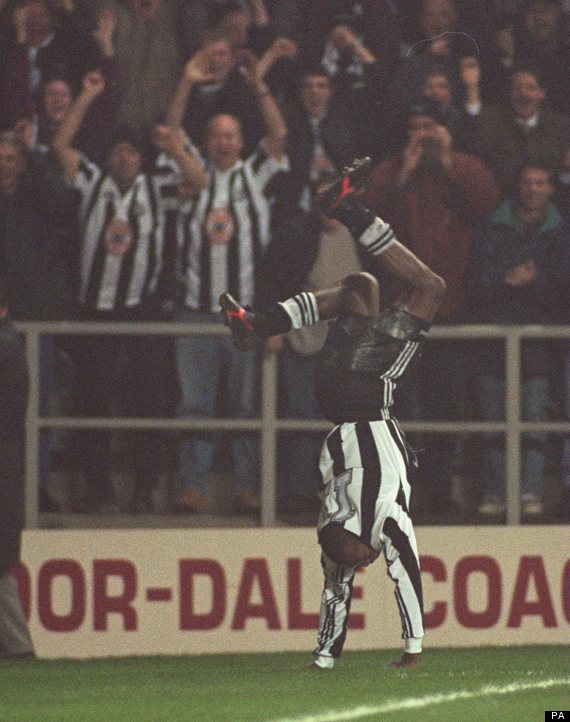 Asprilla in his mid-90s pomp with Newcastle
An Arsenal fan, Farah is effusive about Twitter's power to keep him up-to-date with football results and news when he is training in America. He is complimentary about ex-Gunner Robin van Persie ahead of the weekend's Manchester United match but is shocked that his praise of Farah winning his second gold is, at present, his penultimate tweet.
"He hasn't tweeted since then? He's an amazing guy, I don't know why they gave him stick. If I didn't move to the US, I wouldn't have become what I achieved so as a sportsman you have to ask what do you want rather than think 'I wish I had done that' when looking back on your career."
It's not the year's biggest accolade, but the Sports Personality of the Year is one of the most competitive. So who gets Farah's vote?
"I'll leave that to the public, a lot of people have done a lot of good things," he responds with a beaming grin. Ever modest Mo.
Mo Farah attended the launch for Nike+ Kinect, the interactive fitness experience available exclusively on Xbox 360