'The Hobbit' will soon be appearing on the big screen all around the world, but the stars have already appeared on a very little screen, lending a helping hand to the staff of Air New Zealand with their own flight safety video.
'An Unexpected Briefing' sees hobbits, dwarves and wizards take flight, as Elven Air New Zealand crew members including our own Kara Longden, and part-time female Elf, instruct passengers on in-flight safety for their journey to Middle-Earth.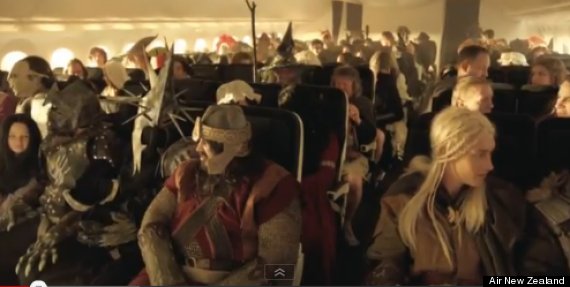 Lots of Hobbit characters got involved
Other familiar faces include Gollum, Fili the Dwarf (Dean O'Gorman), J.R.R. Tolkien's great-grandsons Mike and Royd Tolkien and even a cameo by 'Lord of The Rings' and 'The Hobbit' director Peter Jackson himself.
The Hobbit is in UK cinemas from 13 December. Watch the more conventional trailer below...