Today sees the start of Mexico's Day Of The Dead, the two day Latin American equivalent of Halloween.
An event of huge culture significance, it sees families coming together to celebrate their beloved departed by making sugar skulls and placing bottles of Tequila and Mezcal on graves. The spirits of the dead are encouraged to come and celebrate with the living with prayers, anecdotes and particularly riotous dancing.
Among the more famous Mexicans celebrated each year is Frida Kahlo, the artist who became an embodiment of Mexican tradition before she died aged just 47 in 1954. Her habit of donning colourful shawls, full skirts and elaborate head dresses - as well as the cultural symbolism that is runs in a rich vein through her work - cemented her as a national icon, so it's fitting that she gets her own tribute on the Day Of The Dead too.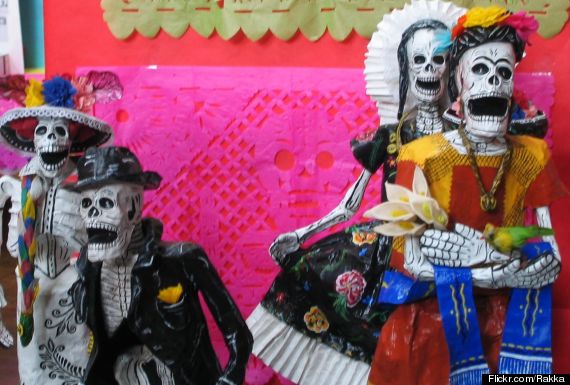 Frida Kahlo death dolls are made for the Day Of The Dead
Kahlo's remains are fondly recreated and placed among the charms and colourful trinkets on homemade shrines. As this photo demonstrates, while skeletons in traditional Mexican clothing could be interchangeable, hers is the only one with such distinct facial hair.
SEE ALSO: LoLourdes Grobet's Amazing Mexican Wrestling Photos
Kahlo started painting after a tram accident kept her bed-bound for months. She took to wearing traditional Mexican clothing to compensate for the severe injuries sustained to her spine, and later leg amputation. They soon became an iconic part of her work, as she depicted her favourite subject: herself.
Pain permeates Kahlo's paintings, spawned from her turbulent marriage and the infertility caused by her accident and the 30 operations which punctuated her life after it. As somebody who gradually turned her own existence into a work of art, we like to think she'd appreciate being the muse of others after it ended.