Pirelli, Goodyear, Michelin and other major tyre manufacturers are going to be forced to up their game, after new EU tyre labelling legislation has helped to prove that smaller manufacturers often perform better than their expensive rivals.
Coming into force from 1 November, the legislation will require manufacturers and retailers to display clearer information about the performance of the tyres, including braking distances in the wet, fuel efficiency, wet grip and external rolling noise.
And according to the ratings comparisons shown to Huffington Post UK, many of the major manufacturers, such as Pirelli, Continental and Goodyear are underperforming compared to their lesser-known, smaller brands.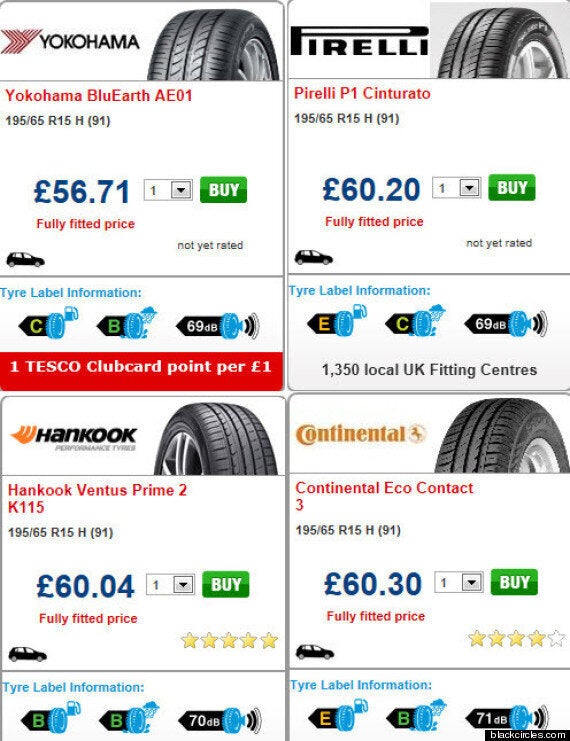 Comparison of top five size brands, including the new efficiency and performance ratings
"Brands that Mr & Mrs middle England haven't heard of will perform much better than the better known brands, and could save their wallets as much as 60%," Michael Welch, chief executive of tyre distributers Black Circles told Huff Post UK.
"Most consumers aren't aware there are 29 brands of tyres on sale, but this legislation means retailers will have to display various brands with efficiency ratings from A-G at the point of sale."
The difference in fuel efficiency between an A rated tyre and a G rated tyre is only 10%, according to Welch, but the difference between wet grip braking across the grades could be as much as 30%.
It's hoped the increased transparency will also help baffled consumers to choose the right tyre, rather than putting themselves at risk of being ripped off by a greedy salesman.
Yokohama was one brand to look out for, according to Welch, as it outperformed many of the industry giants.
As an example, the Yokohama C drive boasts the same ratings as the Continental Sport Contact 5, but costs £11.14 less.
Hankook Ventus Prime 2, which falls under the tyre size of 225/45R17 - the third biggest in the industry for cars - has far better grip, far better fuel efficiency and is slightly quieter than the more recognisable P6000 from Pirelli, and costs slightly less per tyre.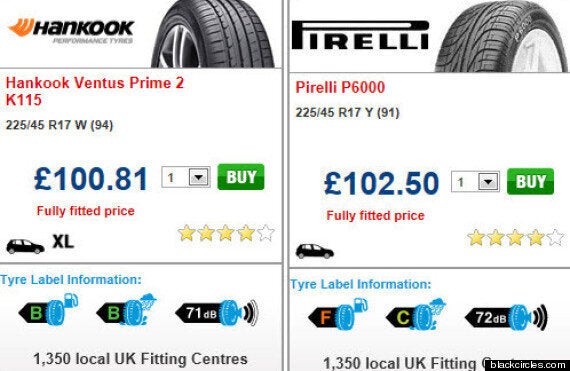 A comparison of the Hankook Ventus Prime 2 with Pirelli's P6000
And the legislation could even lead to a boom in jobs, as Welch predicted the large manufacturers will be forced to invest more in research and development to catch up with their smaller rivals.