For the past 16 years, through the death of a Princess, the rise and fall of four Prime Ministers, a war on terror, a global financial meltdown, expenses scandals, hacking scandals and the inexorable social changes wreaked by the internet one thing has remained a constant - somewhere out there, Kelly Brook has been taking her clothes off.
Make no mistake: it is the enormous nostalgia and affection attached to the British model - still only 32 - that will account for almost everybody who visits the pop up Crazy Horse cabaret show running this week a stone's throw from the Thames. The first disappointment, then, is she barely features in it at all.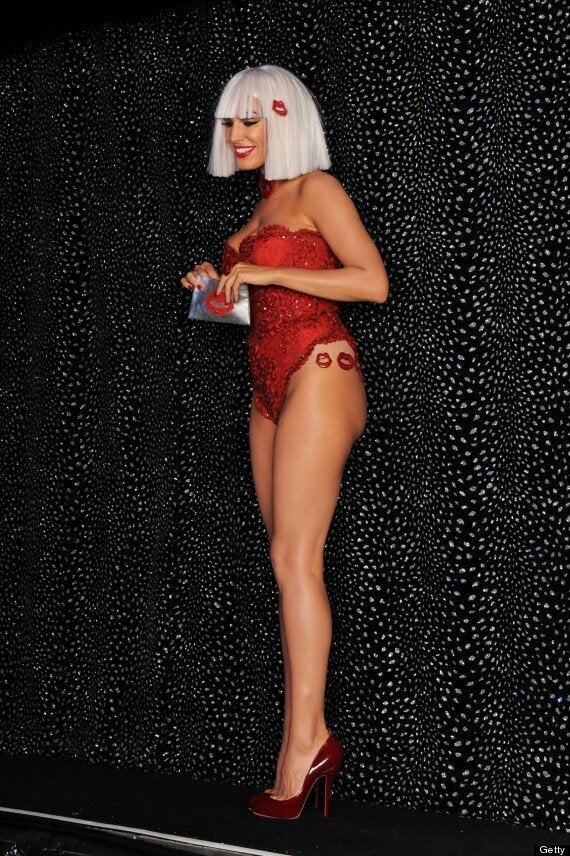 How to think about a thing like burlesque in 2012, when children watch hardcore pornography in their bedrooms and sex isn't just out in the open, but in your face on every street corner?
Originally an antidote to the buttoned-up Victorian values of the 1860s, we're now encouraged to see it as an old art form that is sensual and empowering rather than cheap and manipulative like its closest visual counterpart, plain old stripping.
Why then, do the ten dancers who perform Forever Crazy need to have their breasts on show the entire time? And why recruit a famous glamour model who, let's be honest, is going to attract lots of people mainly hoping to see her tits in real life?
If the issues of sexism that attach themselves to adult entertainment bother you - the women in my office almost unanimously scowled when I told them I was off to see the show - then Forever Crazy isn't the show to win you over.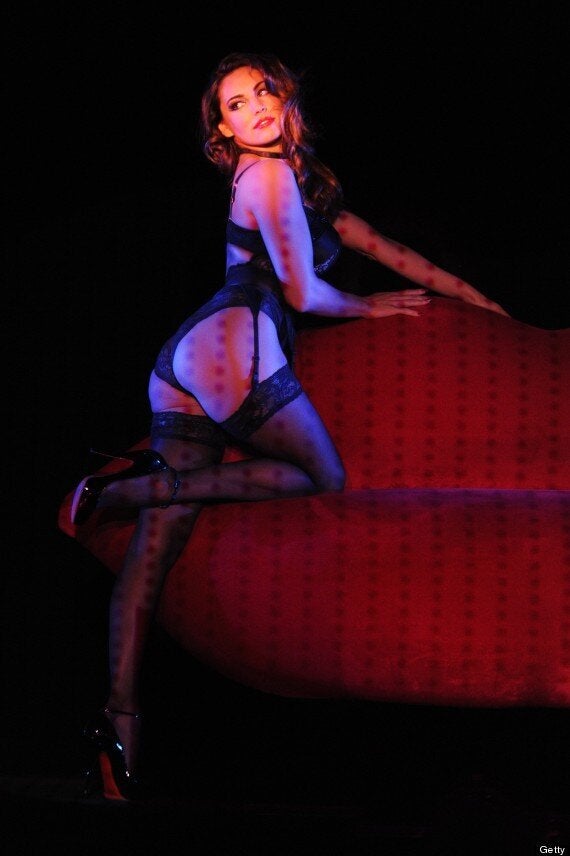 But otherwise: what a spectacle. Kelly's big moment comes at the start rather than the end - somewhat wrong-footing the audience - as she performs a seductive dance around a giant pair of lips.
If that sounds tacky then surprisingly, it isn't. Contrary to excitable media previews, there's no full nudity from Brook who performs in relatively modest lingerie. But there are ten intense minutes of erotic dancing in which you can see the enormous hard work she's put in. It's a deceptively simple, enjoyable, and classy routine from Britain's most familiar siren - all in all quite the coup, though why they didn't put it at the end I'll never know.
The rest of the show verges from the artful to the bewildering, as a troupe of ten or so professional performers work through a series of short themed segments, ranging from a military march in transparent beef eater-style costumes to a beautifully lit mirror show full of swaying arms, legs and bums that makes you feel like you're watching the opening credits of a James Bond film in real time.
Brilliant lighting sees the dancers draw comets across the backdrop with their snaking limbs and the stage curtain tremor like an ocean - Harvey Goldsmith's production is fantastic, giving a modern look and sound to an old-fashioned style of entertainment.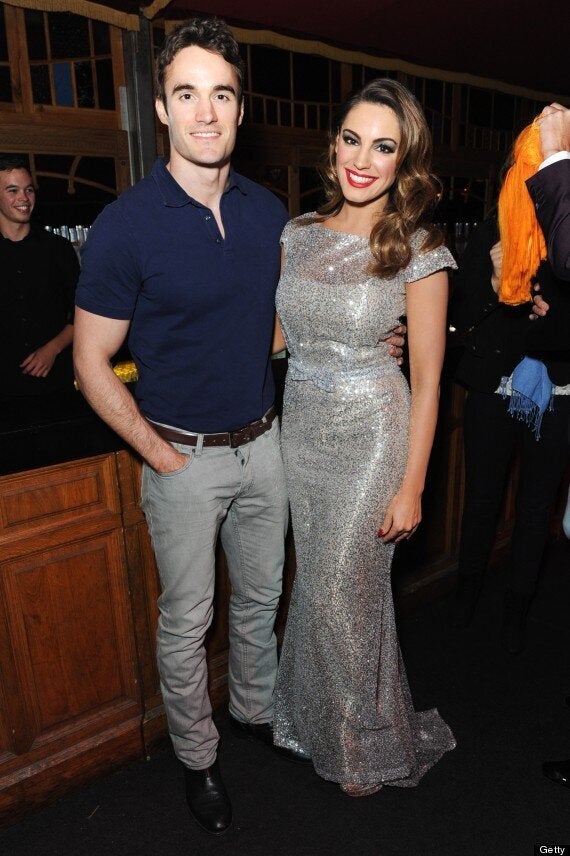 Kelly Brook poses with boyfriend Thom Evans after the show
Other aspects of the show rankle a bit. All but one of the dancers is Caucasian - quite odd for a celebration of female beauty that bills its self as being about "the inexhaustible subject of womanhood". This imbalance is highlighted during a bizarre sequence in which its lone South African star performs by herself doused in leopard print lighting, dancing behind bars to a song called Chain Gang.
Other segments lag or just plain confuse, and for all the excellent choreography and performances, there is a very slim, very beautiful elephant in the room.
Brook's appearances after the opening segment are limited to popping out from behind the curtains during scene changes in a blonde wig to pout and smile and generally whip up the crowd. But we see no more of her (in either sense). There's no big finale, meaning Forever Crazy ends with a bit of a whimper.
I left reminded of the reason many of my male friends give for not being interested in erotic dancing of any form, artful or sleazy. You get yourself all excited, then there's no end product. There's certainly more to this show than just seeing a famous figure perform a seductive dance routine - I'm just not sure there's £60's worth of it.
Forever Crazy is running at the South Bank, London, now until December (1-8 November starring Kelly Brook)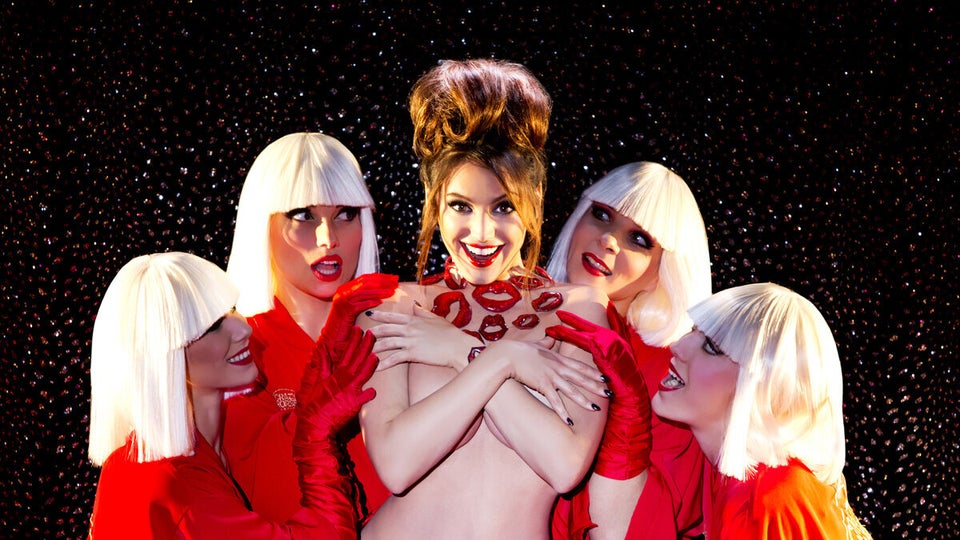 WARNING, CONTAINS NUDITY: 'Forever Crazy' Cabaret Show Starring Kelly Brook
Take a look at all of HuffPost UK's theatre reviews: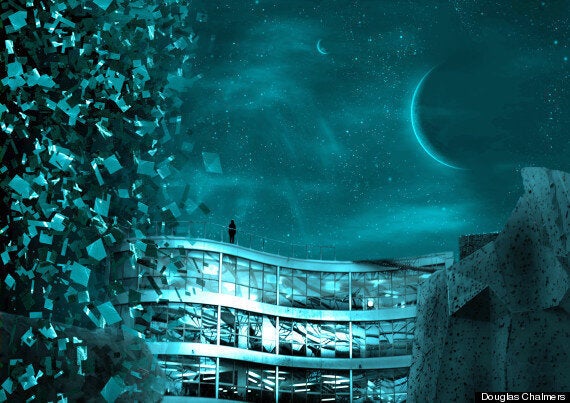 HuffPost UK Theatre Reviews