It's the grandiose palace of tack Tony Montana spends his last days in before dying in a hail of bullets. And the mansion in Brian de Palma's Scarface is now up for rent - for a trifling $30,000 (£18,000) a month.
The opulent, 10,000 square foot property, surrounded by palm trees and mediterranean gardens is where Al Pacino's character uttered the now notorious phrase: "Say hello to my little friend," before blowing away several henchmen with the aid of an M16 assault rifle and an M203 grenade launcher.
Tony's onslaught continues until he is shot in the back, his corpse falling from the balcony to a fountain in the lobby below. The gangster's body floats face-down, darkening the water with his blood beneath a statue of the globe bearing the legend: "The World Is Yours" in pink neon.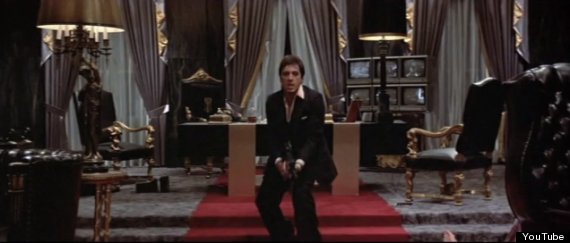 Say hello to my little friend! Al Pacino's character Tony Montana meets his maker
So Miami, so glamorous! But wait...because the 10-acre property is actually located in Santa Barbara, California. Those scoundrels! How are you supposed to be Miami kingpin in California!
Anyway... for £18,000 a month you'll have two fountains (outdoor and indoor), a swimming pool, tiled murals, a guest house and jaw-dropping views of the Pacific ocean.
Four bedrooms and four bathrooms complete the layout. And if you're baulking at the price, consider this - it used to be on the market for $150,000 (£93,000) a month - making the current asking price a total steal!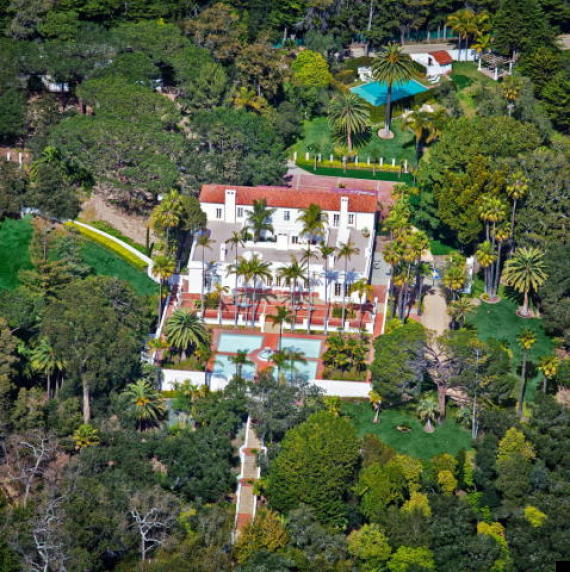 The mansion is known locally as 'El Fureidis', which means 'Little Paradise'
Real estate blog Truilia points out the outright sale price was once listed at $35,000,000 (£21,000,000).
Known as "El Fureidis" locally, the estate was designed by American architect Bertram Grosvenor Goodhue and finished in 1906, reports Curbed LA.
Photos courtesy of Realtor.com.
'Scarface' House On The Market