Seb White, the four-year-old boy with Down's syndrome who starred in Marks and Spencer's Autumn catalogue, will appear in the store's famous Christmas TV advert this year.
Seb will join a long list of famous names that have appeared in the regular festive fixtures including Take That, Myleene Klass and, last year, all 12 X Factor finalists.
Seb came to the attention of M&S advertising execs after a tireless campaign by his mother, Caroline. She contacted the store through Facebook after realising that youngsters with Down's Syndrome were not represented in modelling campaigns. The prime-time ad will be aired on Wednesday
Speaking to The Times, she said: "I must admit when the phone call came asking us if he would like to take part, well I just welled up.
"I felt we'd made a really big breakthrough. Everyone looks forward to seeing the M&S Christmas ad and this year Seb is in it."
Mrs White is keen that although Seb gets a prominent role in the ad, he does not have his disability highlighted.
"He hasn't been singled out in it. He is just one of the group children dancing and playing.
"It says he is one of the cool kids too, that he's just like everyone else and that's how it should be."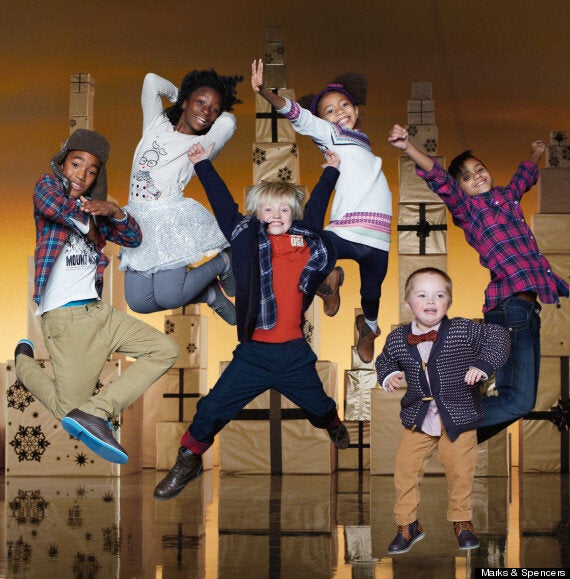 Seb, second from right, is making his second ad campaign appearance for M&S
This year's video has a number of famous models but does not feature any celebrities. It was directed by Jake Nava who worked with Beyonce on her 'Single Ladies' video.
Seb is also being given the honour of turning on the Christmas lights in Oldfield Park, Bath, on Saturday, 24 November.
Barry Cruse, part of the volunteer team who orgainse the lights told This is Bath: "It's been such a huge year for Seb. With his starring role in the Christmas advertisements, we thought let's top the year off for him by switching the lights on in Moorland Road.
"We don't choose just anyone, we only choose important people and Seb is important."
Steve Sharp, Executive Director, Marketing at Marks & Spencer told The Huffington Post UK: "Our initial involvement with Seb was due to the overwhelming response to Caroline's post on our Facebook page.
"However, he won his place in our TV ad thanks to the natural charm and magical personality he showed on set at our magazine shoot. All the kids had great fun filming the ad and Seb really was one of the gang – which is exactly how it should be."
Related