Ryanair boss Michael O'Leary has said a better summer for the low-cost airline will lead to higher than expected annual profits.
The Irish airline is now expected to make full year profits of between £392 million and £416m, with half-year profits rising 10% to £478m - helped by a 6% rise in average fares and a lower than expected fuel bill.
Passenger numbers are also up 7% to 48 million in the six months to September 30, partly due to a post Olympics surge.
However, its winter forecast was difficult to predict, according to O'Leary, leading to Ryanair grounding up to 80 aircraft as a result of high oil prices, airport fees at Stansted and Dublin airports and seasonally weaker demand.
In a market statement, the airline added: "We expect market conditions to remain tough as recession, austerity, high fuel costs, and excessive government taxes dampen air travel demand. Further airline failures and consolidations are inevitable."
The statement also confirmed previous news reports of nine new routes being added from its airports in Manchester, Liverpool and East Midlands.
And speaking on Sky News on 5 November, O'Leary confirmed there were no plans to expand into transatlantic flights for "at least four years" and appeared to admit flying BA from Dublin to London for his appearance at the LSE.
There was also a new statement on Ryanair's plans to take over Irish rival Aer Lingus.
O'Leary said on 5 November: "Ryanair has submitted an unprecedented remedies package, under which multiple up-front buyers will commit to open new bases in Ireland, and enter all of the Ryanair/Aer Lingus crossover routes which are not currently served by other substantial airline competitors.
"We believe this is the first EU airline merger where the remedies proposed delivers not one, but at least two up-front buyer remedies, and where all of the 'merger to monopoly routes' are remedied, not just by passive slot divestments, but by active up-front buyers and new market entrants.
"Ryanair is determined to explore all commercial options to address any competition concerns the EU may have in order to secure approval for its proposed merger. The recent BA/BMI merger approval and the subsequent Aegean/Olympic merger proposal vindicate Ryanair's view that its offer for Aer Lingus along with the radical remedies package will - if fairly assessed - secure EU competition approval."
Elsewhere, Sir Stelios's low-cost African Airline Fastjet unveiled new branding today featuring the recognisable African Grey Parrot.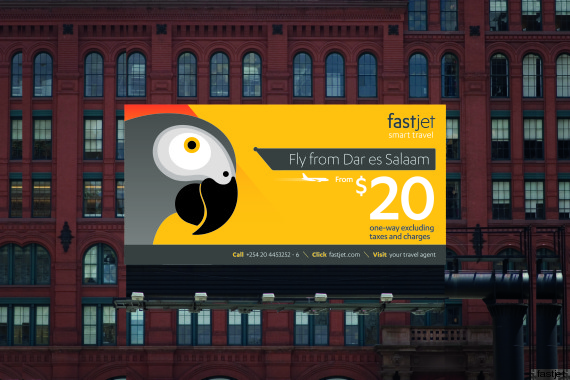 The new-look billboard
Commenting on the new branding, Fastjet chief executive Ed Winter said the parrot was chosen as it is renowned for its intelligence and is therefore "a perfect personification of Fastjet's motto; smart travel".
"We hope that our friendly new mascot and logo will soon become universally recognised as symbols of reliability, efficiency and safety," he added.
As previously reported, the airline now has three Airbus A319s as part of its fleet.
All three aircraft are in the process of being painted with the Fastjet livery before being dispatched to Tanzania ready for the launch.
The airline's new web site will launch next week providing information on routes and fare schedules. The site will soon allow tickets to be bought using credit/debit cards as well as mobile phone technology that debits the users phone accounts.
Additionally, tickets will be sold through travel agents and fastjet's own sales desk, call centre and offices throughout East Africa.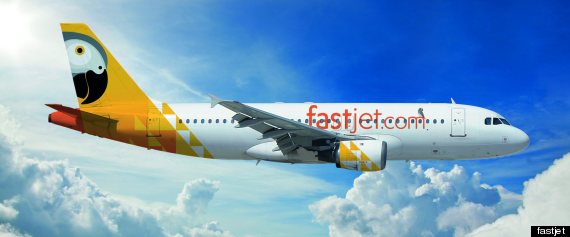 The new-look Fastjet plane