Students have declared a victory after driving away a group of notoriously graphic anti-abortion protestors by holding a counter-demonstration.
Abort67 arrived at Nottingham University's campus on Wednesday to target student nurses and doctors to highlight they have the choice to refuse to carry out abortions. But the group, which had erected detailed pictures of aborted foetuses around University Park, left after an hour.
Students tweeted their anger at the group's presence on campus, calling the images displaying during the protest as "gruesome and distressing".
One student urged those at Nottingham to go and counter-protest, saying: "They have no place in society, no place on a university campus."
The university student union's women society organised the counter-demonstration, saying it condemned the group and students "have the right to be protected on this campus". Students held up large pro-choice placards to try to cover the graphic pictures.
"Abort67 threaten the wellbeing of some women and men who may be at a vulnerable point in their university career," the group said in a statement.
"Whilst we realise the topic of abortion is a controversial subject we believe if the discussion is going to be had it should be done in a balanced manner and not through intimidation and graphic propaganda.
"We support all women students, regardless of whether they decide to have an abortion or whether they choose not to."
Kathryn Attwood, Abort 67's group director, compared the anti-abortion demonstration to anti-slavery protests.
"We are following the steps of Thomas Clarkson, the slave trade abolitionist, around the country," she told student magazine, Impact Nottingham. "He toured around with graphic images regarding slavery to show the public what slavery did to slaves.
"We're following his steps to show students and engage with students in debate about what abortion does to pre-born children."
According to one student Annie Tidbury, the group left the campus after being met by the counter-protest but said the reason was because it had started to rain.
The Abort67 protest is part of a tour of UK universities to campaign against abortion. The group has already visited Cambridge University, as well as creating a stir at Sussex.
The group tweeted its dismay at the protests by Nottingham, Cambridge and Sussex students, calling it a "nationwide cover-up project".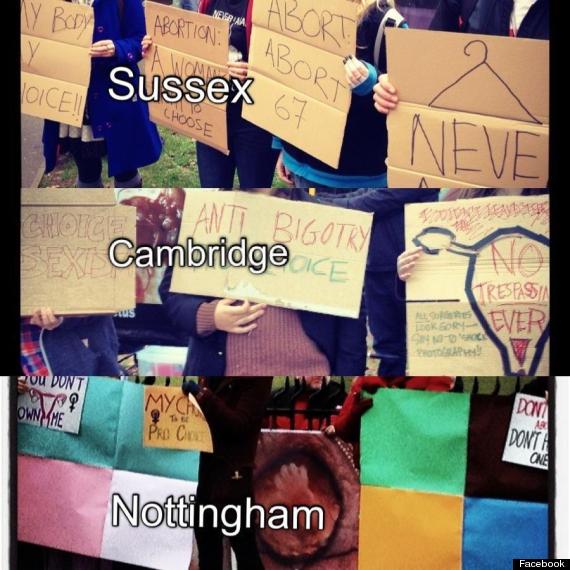 Abort67 posted a picture of the "cover-up project" by students on its Facebook page
An online petition has also been created by Nottingham's women society to bar Abort67 from staging any future protests on any university campuses which has secured 100 signatures out of the desired 200.
The Nottingham SU took a strong stance against the Abort67 protest, saying: "Abort67's intimidation and graphic propaganda could result in students feeling harassed and victimised."
However, this was disputed by one student who tweeted:
He added: "I hate Abort67, I just don't think the SU should be telling people what I think."
SEE ALSO:

Anti-Abortion Protest By Abort67 Leaves Sussex University Students 'Distressed' (GRAPHIC PICTURE)