The Duchess of Cornwall was left smitten after cuddling a koala bear with the Prince of Wales on the latest stop of their two-week tour of Commonwealth countries.
Camilla cradled Matilda, a nine-month-old orphan, and said she wanted to take the tiny furry creature home with her.
Prince Charles was more pragmatic and joked about the koala's reputation for having a weak bladder when he was handed Kao, aged four.
"Something ominous will run down," he said.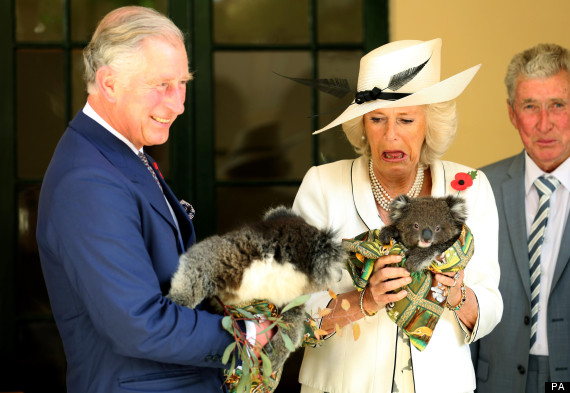 The royal couple gets to grip with the cuddly marsupials
Koala rescue volunteers Warren and Rae Campbell had brought the animals to Government House in Adelaide for the royal couple to meet.
The two animals were busily munching eucalyptus leaves as they hung on to the Campbells when the royal couple walked onto a veranda at the historic building.
The couple offered them to the Prince and Duchess, with Camilla saying to Charles as she gestured to Kao: "You take the big one, darling".
The koalas were wrapped in cloth pouches and as the Duchess held her tiny animal she joked: "They've got their nappies on."
The Prince's koala faced away from him and he said: "I can't see this one at all, he's looking down all the time."
The Prince Of Wales And Duchess Of Cornwall Visit