Students from around the UK packed unions, bars, and houses for US election parties on Tuesday night, after a week of pollsters' predictions keeping the world on a knife edge.
Traditional American fayre was served at Edinburgh University's election bash, with students able to choose between a Barackoburger or a Romneyburger, all washed down with the most American of beers, the Budweiser.
Reporters from student newspapers had their own unique take on the electoral action, with Bournemouth university setting up an impressive site dedicated to the Obama Romney fight.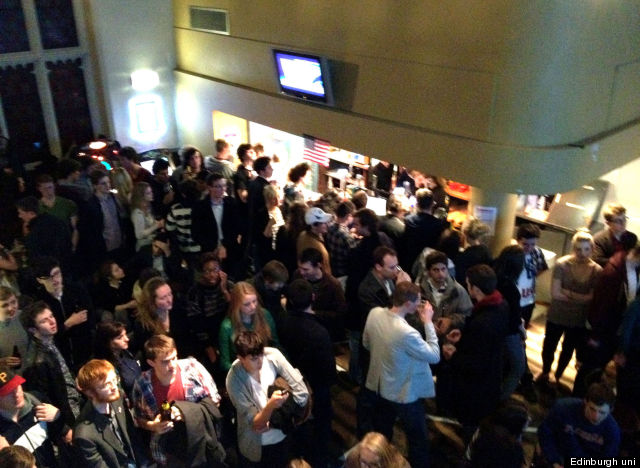 Students packed out Edinburgh university's sports bar
Liveblogging throughout the night, student journalist Joseph Kent, Sofie Edlund, Alex Geraghty and Polina Stoyanova stayed up until 7am this morning to provide their campus with every twist and turn from the electoral race.
US news channels blared out the chants of FOUR MORE YEARS to the bleary-eyed few who had managed to stay up all night as Obama was re-elected.
What did you do for election night? Email your pics to ukpicturedesk@huffingtonpost.com