The parents of a 20-year-old man who killed himself have published his suicide note online to highlight the bullying he endured.
Tim Ribberink, who was training to be a history teacher, died last week in the village of Tilligte, east of Amsterdam.
On Monday his parents Gerrit and Hetty revealed their son's last missive alongside his death notice.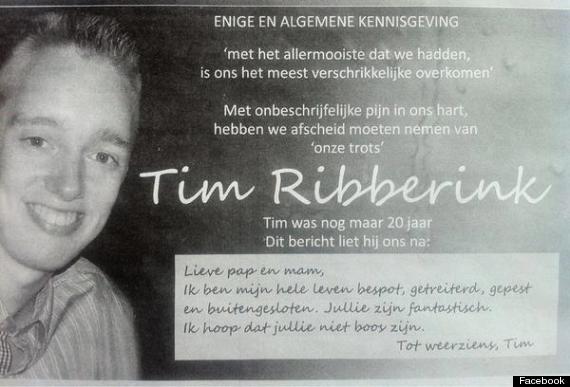 20-year-old Tim Ribberink committed suicide last week
Published in Twentsche Courant Tubantia newspaper, it said:
"Dear Mum and Dad, All my life I have been ridiculed, abused, bullied and excluded. You guys are fantastic. I hope you're not angry. Until we meet again."
Tim's parents have now asked police to investigate after two messages which were left on a restaurant website using their son's name.
One dates from 2010, while the other was posted this summer alongside his address and reads: "I am a loser and a homo", Expatica reported.
A spokesman for the Windesheim hbo college Tim attended told RTL news: "He was doing well here. He fitted in and his parents thought so as well."
However Henk and Martina Knol, who run an ice-cream parlour where the young man worked part-time, said they had noticed he had lost weight and become pale in recent months.
SEE ALSO: Hacktivists 'Reveal' Stalker Of Amanda Todd, Who Told Bullying Story On YouTube Before Committing Suicide
They said: "The girls used to ask if he was gay but he'd make a joke of it. If he was gay, he didn't want anyone to know about it."
Reporting from The Hague on Wednesday, Irish Times writer Peter Cluskey revealed a message from Tim's parents, which was read during a service at a Catholic Church on Tuesday.
"Tim was not weak or pathetic. He was strong. That is how we knew him, and that is how he would want the world to remember him.
"Tim was a history student, and that is why we quote Winston Churchill on his behalf to other people who are being bullied: 'Never, never, never give up'."
If you've been affected by the issues in this article, please call the Samaritans on 08457 90 90 90.