Cristiano Ronaldo has admitted the perceived arrogance he is associated with has led to him losing individual honours to Lionel Messi.
Ronaldo is on the 23-man Ballon d'Or shortlist after another magnificent calendar year in which he has scored 56 goals to date and won the Primera Liga with Real Madrid.
But the Portuguese captain's ostensibly ostentatious nature distinguishes him from the more reserved Messi, who has won the award the past three years.
When suggested his supposed brashness had cost him more individual awards compared to the more humble Argentine, Ronaldo agreed.
"I don't want to cry about it, but sometimes I think yes," the 27-year-old told CNN.
"It's a question to which I never give the 100% right answer, because sometimes I really don't know.
"Maybe sometimes, I agree that I have a bad image on the pitch because I'm too serious."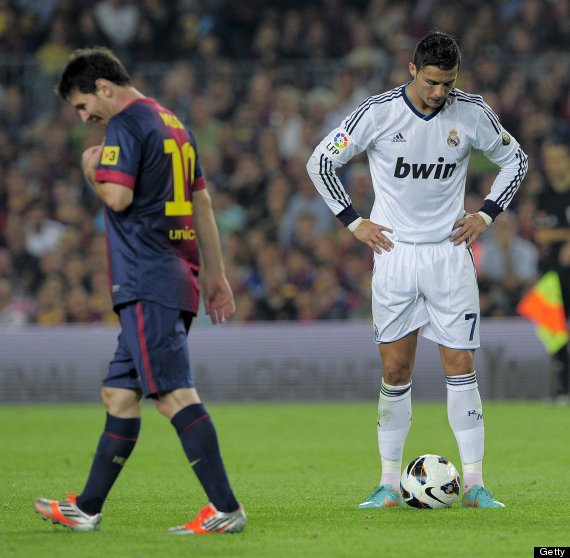 Ronaldo has lost out to Messi in the Ballon d'Or the last three years
Ronaldo has shown signs of growing weary with being compared with Messi. Denmark fans taunted him by chanting the Barça forward's name at Euro 2012, which compelled him to remind the press afterwards Messi's Argentina were knocked out of their own regional major tournament - the Copa América - at a similar time the previous year.
He did however played down his arrogance and claimed he would like to "have a chat" with his detractors in order for them to "get to know me". He added his seriousness was owed to a personal hatred of losing and that his image betrayed who "the real Cristiano" is.
When asked who the best player ever was in 2008, Ronaldo didn't hesitate with his one-word answer "Me".
Ronaldo won the Ballon d'Or in 2008 after he helped Manchester United to a Premier League and Champions League double in his penultimate campaign with the club.