Sir Paul McCartney has revealed that it was difficult having Yoko Ono sit on the recording sessions of the Beatles, but that he never blamed her for the group's subsequent split.
Talking to Sir David Frost for his Al Jazeera interview programme, Sir Paul remembered: "She would sit in on sessions and you'd have to try and get your mind round this. Our girlfriends or wives wouldn't have done that, and it was an unspoken rule, you wouldn't sit in on the session, so Yoko was doing this. So I think it created uncomfortable moments."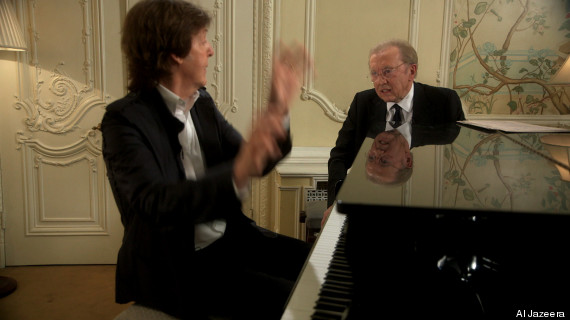 Sir Paul treats Sir David to an impromptu rendition of some famous tunes
But he said he would remind himself that "John's in love with this woman, this is not an ordinary relationship" and let it go.
And he didn't blame the conceptual artist who became Lennon's second wife for the Beatles going their separate ways, saying the group was breaking up, anyway, and gave her credit for Lennon's later solo triumphs...
"I think she attracted John so much to another way of life that he then went on to do very successfully and had a sort of second part to his career, writing things like 'Imagine' and doing 'Give Peace A Chance'. I don't think he would have done that without Yoko."
He also told the veteran interviewer that it was easier for the Beatles than for today's reality TV music stars because they'd had a chance to get used to the fame gradually, working their way up through clubs, then theatres, then bigger venues.
"It was a staircase. Now you'll get kids come in at the top... they come in, boof, over a period of eight weeks, they're major national stars. We couldn't get arrested."
Sir David also asked him which of his roles - husband, father, songwriter, musician, philanthropist - he was most proud of?
"Father. And grandfather to eight."
Frost reflected after the interview: "Paul was on great form and he even reeled off a couple of McCartney hits at the end of the interview."
Watch the full interview on Al Jazeera English on Friday 9th November at 8pm on the following UK platforms: Freeview channel 83, Sky Guide 514 and Freesat channel 203, or online at http://www.aljazeera.com/programmes/frostovertheworld/