Helen Flanagan has become the first 'I'm A Celebrity... Get Me Out Of Here!' contestant to show off her bikini body in the jungle shower this year.
Mimicking that famous moment when Myleene Klass cleaned up in a skimpy white two-piece in 2006, the 22-year-old washed away her first day in the jungle like a natural.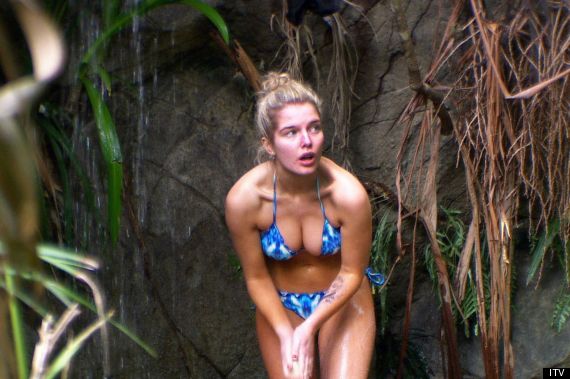 Jessica Jane Clement, Gemma Atkinson, Nicola McLean and Katie Price have also tried to win public votes by washing seductively in their bikinis during the ITV reality contest in previous years.
The former 'Corrie' star has already proved herself a prime candidate for election into any bushtucker trials.
Just as Gillian McKeith ensured she got put up for everything because of her squeamishness, so it would seem Helen is going the same way.
Helen was smothered in mascara of the non-waterproof variety after her perilous entry into the camp - on swinging tree-high planks of wood - got her wobbling, weeping and screaming in equal measure.
And once in the camp, she had problems sleeping, with a rat wandering around next to her bed. How did the rat know which one would give him the most attention?! "Briiiiaaaan," she yelled, in the hope that Brian Connelly, one of her protectors would come running. Alas, he slept through.
Come the morning, and she found to her horror that camp tasks were to be divided up, with even the dunny to be emptied on a regular basis. More shrieks, deafened only be Charlie Brooks's retching from that quarter.
Unsurprisingly, she's been nominated to participate in the next Bushtucker Trial, where she's up against Nadine Dorries (with many comments on Twitter that the latter's votes had come mostly from Number 10 accounts). Helen had lots of encouragement from her team-mates, and she's got just the outfit.
Helen, in both happy and unhappy times already...