'I'm A Celebrity' Day 2 found Nadine Dorries pitted against wailing Helen Flanagan for the particularly gruesome bushtucker trial, Bug Burial.
The prospect of lying underground with bugs crawling all over them filled both bushmates with reasonable fear, but both talked a good game...
"You've got to commit," said Nadine, the same woman who has courted such controversy by abandoning her constituency for a romp in the jungle, "I'm absolutely determined to win this. MPs are a conduit for public anger, so I expected this."
And Helen was determined to confound her own doubters. "I've got a fear of heights," she admitted, after skipping along a rope bridge to the trial. "It was humiliating - I want to do better."
The trial turned out not to play to Helen's as yet hidden strengths, with the former Corrie star screaming before the klaxon went off for the start of the game, and she didn't last much longer afterwards, demanding to be let out approximately... four seconds into the game, which might be a new jungle record. Once she was in the safe comforting arms of bush shrink Bob, the floor was left to Nadine to clean up, and scoop the bushtucker prize.
Except, it didn't go to plan, with Nadine not lasting much longer - 4 minutes later, she too was seeking Bob's comforting embrace. Covered in bugs, she didn't take too kindly to Helen's new problem...
"I've got a twig in my hair."
"I want to go home," Helen added on their return from the trial. "Well, go home then," replied Nadine.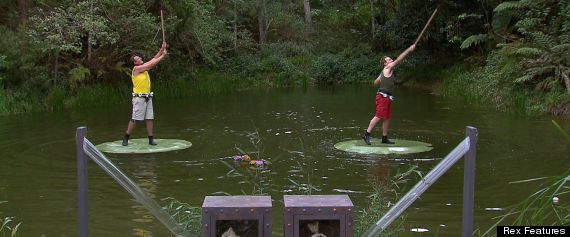 Meanwhile, Eric and Brian illustrate their sporting prowess
Eric Bristow and Brian Conley were having a more leisurely day, until they came across each other and a water game. After Eric proved once more his legendary sporting prowess with his smooth moves getting back onto his lilypad, it was time for fresh trial nominations.
Who do you think will triumph in the next Bushtucker trial - Helen or Nadine?
The new game will be Rotten Rhymes, and no surprises - Helen is up again. And she's facing Nadine. Voting viewers really have no mercy. Well, if it ain't broke...
After a night of more beans and rice that tastes, to quote Colin Baker, like "privet hedges" by now, the Blue team will be hoping for great things from their MP.