A Day of Action and Solidarity across the EU is underway with around 40 groups from 23 countries staging walk-outs and strikes against rising unemployment and austerity measures.
Strikes in Spain, Greece, Portugal and Italy have caused travel chaos in the UK as airlines have cancelled a number of flights to Spain and Portugal.
Protests are also taking place in Belgium, Germany, France and some eastern EU states. Transport in these countries has been affected and many schools have closed for the day.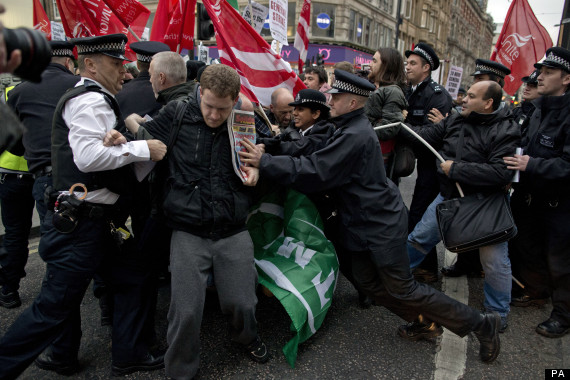 Police officers try to push protesters on Oxford Street
There were also protests in London timed to coincide with the day of action.
Demonstrators blocked traffic when they gathered on Oxford Street whilst taking part in a picket and demonstration they said was over dismissals of 28 workers employed by contractors on the Crossrail transport project.
However a Crossrail Spokesperson said "It is not true for the Unite union to claim that EIS workers had been dismissed by Crossrail contractors. All construction workers on the Crossrail project are employed by our principal contractors and their supply chain rather than by Crossrail Limited.
"A contract between our western tunnels contractor BFK and EIS ended in September as the work they were carrying out to commission the first two tunnel boring machines had been completed and tunnelling had begun."
British Airways had to axe eight round-trip flights between London and Madrid and Barcelona as well as two return services to Lisbon in Portugal.
EasyJet cancelled some UK-Spanish services as well as more than 20 within-Europe flights.
Some other easyJet flights were badly delayed - with a London service to Thessalonaki in Greece delayed for three hours 40 minutes.
Passengers on an easyJet London to Athens flight faced a delay of two hours 30 minutes, while a Manchester-Athens flight was delayed for two hours 10 minutes.
Heathrow and Gatwick were among the UK airports where flights were delayed or cancelled.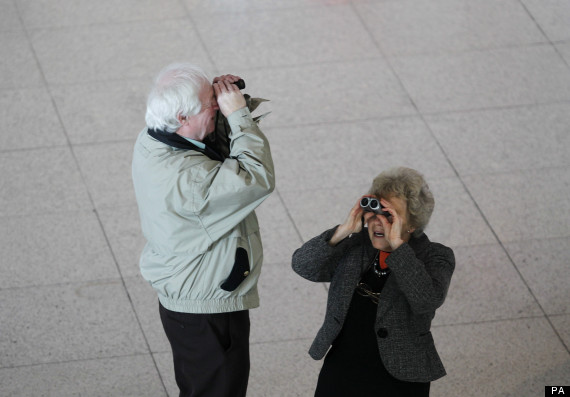 British couple Anthony and Christine Kenyon use binoculars to check departure information boards at Lisbon's Portela international airport during the general strike
Expressing regret that some flights would be delayed, rescheduled or cancelled, easyJet said: "We are proactively trying to minimise disruption. However, we would like to warn customers that they could experience delays to their travel plans."
British Airways said: "We are doing all we can to minimise the disruption to our customers."
"Customers due to fly to or from Spain today can rebook to an alternate date free of charge. Customers on cancelled services can also take a full refund.
"We are also looking at putting on larger aircraft to help as many customers as possible. We are advising customers to check ba.com for the latest flight information.
"We apologise to our customers for any inconvenience caused by industrial action which is beyond our control."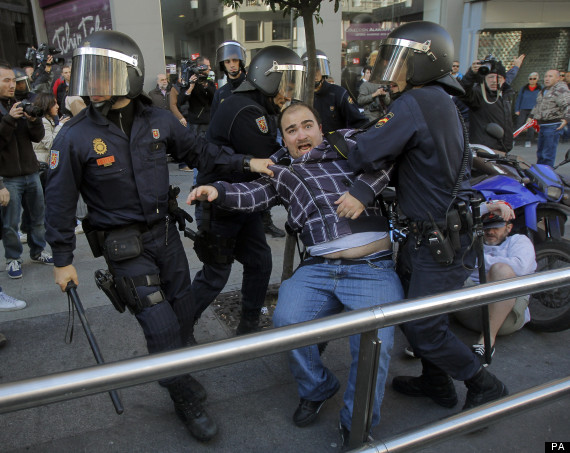 Riot police apprehend a protestor during the general strike in Madrid, Spain
The action, which was urged the European Trade Union Confederation (ETUC), who said in a statement: "Austerity is a total dead end, and must be abandoned. Social protection and wages can no longer be sacrificed. This is a social emergency, and it is time to listen to what the citizens and workers have to say, and to change course.
Describing itself as the "voice of European workers", it added the aim of the day was to "call upon Europe's leaders to demonstrate their determination to really get to grips with the deterioration in employment and to respond to the growing social anxiety felt by Europe's citizens."
This is the third strike in Greece in the last two months. After Greek MPs approved deep cuts in the country's latest round of austerity measures earlier in November, riots raged on the streets of Athens as the package passed by just three votes.
Around 80,000 people demonstrated in fury outside the Greek parliament at the €13.5bn cutbacks, as riot police used a water cannon and tear gas to disperse protesters, who screamed and hurled petrol bombs.