'Death in Paradise's many fans will be relieved to learn, from the star himself, that Detective Richard Poole's love story with Camille "has indeed moved on".
The stars of the BBC's huge hit - the third episode of Series 1 outrated the England match on the other side - have just returned from filming the follow-up series, and Ben Miller is as happy as ever, although he admits his working conditions are not the norm.
"I'd googled Guadeloupe," he remembers of getting the offer for the role. "There was a palm tree so that was a good start. I'm usually in a warehouse in Warrington for work."
Thus Ben Miller, best known as one half of comedy duo Armstrong and Miller, found himself on an island in the middle of the Caribbean, staring up at cobalt blue sky and looking down at a script. And so it continued for six months, while he filmed the lead role of Poole in the hit detective drama - basically Midsomer Murders but with lapping waves, the sound of exotic instruments and a catalogue of quirky characters - what's not to love?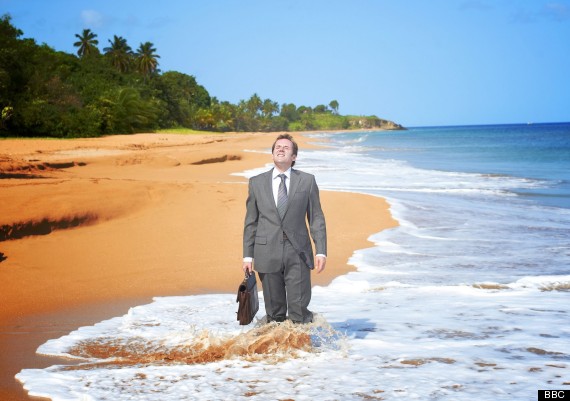 Ben Miller found himself in the Caribbean - in a suit - for six months
Miller, unsurprisingly, enjoyed every minute of filming the drama, which employed the classic fish-out-of-water device as well as turning the classic maverick Columbo cop on its head - "It's everyone around him going a bit off message, while he's determined to do everything by the book," says Miller. "He means well, he's honourable, he's just not very socially adept, but he's always interesting."
But even the show's star admits he was unprepared for the rate at which viewers flocked to BBC1, hence the second series.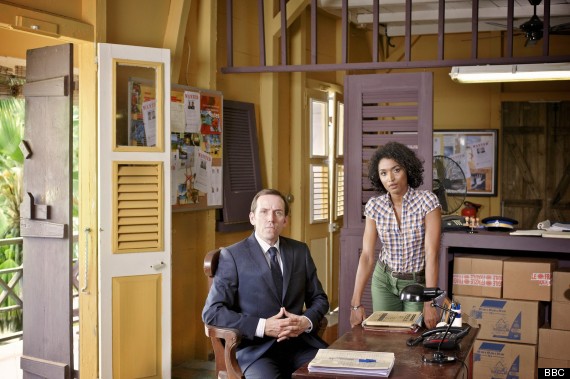 Richard Poole (Miller) has to ingratiate himself with the locals, including the beautiful ones like Camille (Sara Martins)
Now, after two extended periods on the island, he remains impressed by both the beauty, the rain forests, the volcanic terrain, the beaches, of his working environment - "when star guests turn up, I'm official tour guide now I know where to find the waterfall and the secret beach" - and the locals of Guadeloupe, many of whom turn up as extras in the show - "they're incredibly hardworking as well as having the secret to enjoying life".
So what on earth did Miller miss while he was away? He muses...
"Apart from family, I did miss some things about England... rain and cold weather, as well as cold, dry weather. They don't really have seasons. All the stuff we moan about, really."
Death in Paradise Series 1 is now available on DVD. Watch the trailer below...