The government has sent out a strong rebuke to Spain over "provocative incursions" into Gibraltarian waters with its ambassador Carles Casajuana summoned to the Foreign Office to face British anger.
The diplomatic move followed two "serious" incidents on Monday when a Spanish naval vessel patrolled the area and Spanish customs officials attempted to seize a civilian boat.
Police from Gibraltar had to intervene "to safeguard the welfare of the four occupants", the Foreign Office said of the latest incident in the long-running dispute over The Rock's sovereignty.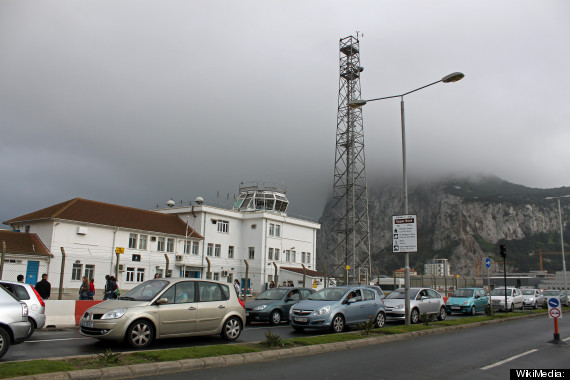 Traffic queues on Gibraltar
Spain has long laid claim to the island, which is a British overseas territory.
Last month the British government made a formal complaint to Spain after British citizens in Gibraltar claimed they were being "held hostage" by lengthy police checks which led to six-hour queues at the Spanish border.
Many took to Twitter to express their frustration at the delays and urged the government to maintain its tough stance.
Gibraltar's chief minister, Fabian Picardo, had urged London to "protest at the highest level", the Olive Press, Spain's English language newspaper, reported.
"Each day that passes a different excuse is wielded out in a futile attempt to justify such actions that are contrary to EU freedoms."
Europe minister David Lidington launched a fresh verbal assault on Thursday after the FCO's most senior official Simon Fraser made clear Britain's concerns to Ambassador Federico Trillo.
"I condemn these provocative incursions and urge the Spanish government to ensure that they are not repeated," Lidington said.
"The UK has repeatedly made diplomatic protests to Spain over attempts by Spanish state authorities to exercise jurisdiction in British Gibraltar Territorial Waters.
"Yet on 13 November there were two further serious incursions. A large Spanish naval ship conducted a prominent patrol through British Gibraltar Territorial Waters lasting several hours.
"Later on the same day a Spanish customs vessel sought to apprehend a Gibraltarian civilian boat in British Gibraltar Territorial Waters, forcing the Royal Gibraltar Police to intervene in order to safeguard the welfare of the four occupants."
He warned that such incidents risked damaging "the prospects of developing a harmonious and collaborative relationship between Gibraltar and Spain.
"It is also in all parties' interests to avoid incidents which could put at risk the safety of those operating in British Gibraltar Territorial Waters.
"We remain confident of UK sovereignty over British Gibraltar Territorial Waters and fully committed to protecting the interests of the people of Gibraltar and their wish to remain under British sovereignty."
The Gibraltar Chronicle reported that both Spanish and British locals in and around Gibraltar expressed surprise that the warship had entered British waters.
It reported: "Indeed, even in the days of General Franco when Spain was a dictatorship, the Franco government did not allow its warships to make incursions into Gibraltar waters.
"Now, with a democratic government in Spain, they behave in a manner that not even Franco Spain did.
"Furthermore, it is incredible that a country which is a member of NATO and an EU partner with Britain should act in such hostile fashion against Gibraltar - even sending warships!"