UPDATE: First Picture Of 11-Month-Old Baby Of BBC Worker Killed In Gaza City Strike
The 11-month-old son of a BBC journalist killed in a Gaza strike has been buried.
Baby Omar Misharawi was killed on Wednesday after his family home was struck in an Israeli air strike.
A picture of his grief-stricken father, BBC Arabic picture editor Jihad Misharawi, holding his shrouded body aloft was shared across the world on Thursday. The parents of Omar Misharawi cradle their son at his funeral
Mr Misharawi's sister-in-law was killed and his brother was seriously injured in the attack.
He told BBC Arabic: "What did my son to to die like this? What was his mistake? What did he do?"
A picture of the little boy was tweeted by BBC Middle East Bureau Chief Paul Danahar.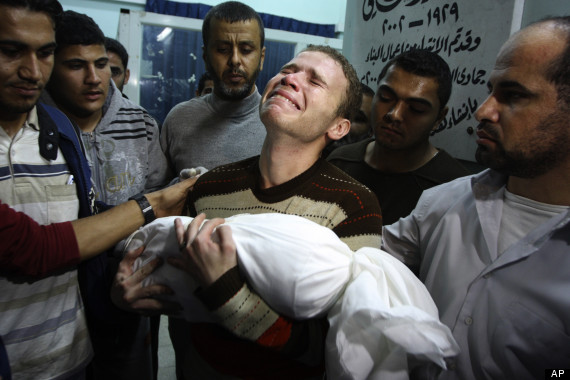 Jihad Misharawi weeps as he holds the body of his 11-month-old son Omar following an Israeli air strike in Gaza City
BBC Foreign Editor Jon Williams this morning tweeted an image of the tragedy and a message of thanks to everyone who had sent condolences to his colleague.
The strikes came after Hamas's top military commander Ahmed Said Khalil al-Jabari was killed in Gaza on Wednesday.
Thirteen Palestinians were killed in the ensuring Israeli operation, the BBC reports, although it is unknown if Mr Misharawi's son and sister-in-law are included in this figure.
On Thursday morning three Israelis were killed after rockets were fired from Gaza.
SEE ALSO: