Lord McAlpine is set to take legal action against Sally Bercow, Twitter users who named him and ITV's This Morning for libel, according to his lawyer.
Solicitor Andrew Reid told the BBC that ITV's This Morning was the top of a "long list" of those who could be liable to lose "a lot of money" after presenter Phillip Schofield handed prime minister David Cameron a list of alleged paedophiles live on air.
He also said Bercow, who is married to parliament's speaker, would face action after she tweeted "Why is Lord McAlpine trending? *Innocent face*"
On Thursday Bercow did not respond to requests for comment from The Huffington Post UK but, in response to reports she would be receiving a lawyer's letter from McAlpine, tweeted: "gulp".
Reid said the journalist George Monbiot, who also tweeted about McAlpine, had apologised to McAlpine twice.
Bercow added in a tweet to her 57,111 followers: "I guess I'd better get some legal advice then. Still maintain was not a libellous tweet - just foolish."
McAlpine, a former Conservative party treasurer, said he does not expect his reputation to ever recover after he was falsely accused of sexually abusing young boys.
After an episode of BBC's Newsnight, the peer was falsely implicated in a paedophile ring that targeted children at a care home in Wrexham in north Wales.
McAlpine was not named in the report but people used Twitter to speculate that he was the figure identified by abuse victim Steve Messham.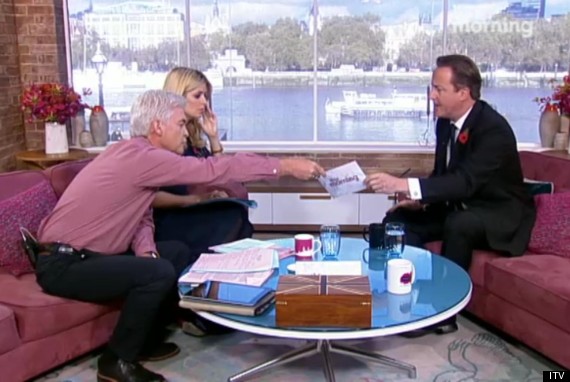 Phillip Schofield handed Cameron an alleged 'paedo' list live on TV
Lawyer Reid said he has hired experts to find those who had tweeted about McAlpine, adding that "a lot of people" who linked his client's name with false allegations of abuse would face legal action.
"Let it be a lesson to everybody that trial by Twitter or trial by the internet is a very nasty way of hurting people unnecessarily and it will cost people a lot of money."
He singled at Bercow in the interview as a "well-known" Twitter user who named McAlpine.
"I would say Mrs Bercow was quite well-known. She has not yet been in touch and apologised, and I'm most surprised she has not done so.
"Hopefully she will do so and we will reach an agreement with it because we are listing people."
Bercow had apologised on Twitter, writing last week: "Belatedly read McAlpine statement. Am TOTAL, irresponsible eejit for mentioning fact that he was trending on my timeline last Sun. So sorry."
The solicitor also said he had already sent a letter to ITV about Schofield, calling his performance "very, very low." "I'm amazed that it was allowed," he said.
Broadcasting watchdog Ofcom said on Thursday that it was investigating the BBC's Newsnight and ITV's This Morning over complaints that "generally accepted standards" were breached.
SEE ALSO: