An investigation into the death of a woman in Ireland who was refused an abortion must stand up to international scrutiny, a government minister has said.
A health service inquiry has said it will take three months to compile a report on the circumstances of Savita Halappanavar's death on October 28 in Galway University Hospital.
Mrs Halappanavar, a 31-year-old dentist, was 17 weeks pregnant when suffered a miscarriage and septicaemia. She died two days later, on 23 October, after suffering an 'agonising' death.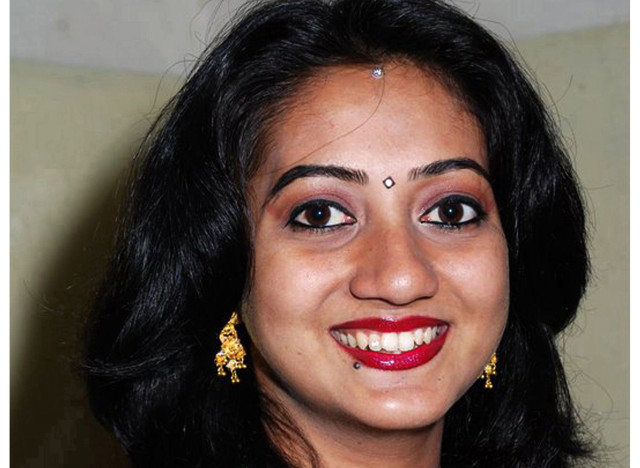 Savita died of septicaemia in hospital after miscarrying her baby
Her husband Praveen has alleged that doctors refused several requests for a medical termination because the foetus's heartbeat was present. According to Mr Halappanavar they were told: "This is a Catholic country."
Dr James Reilly, the health minister, said he has not ruled out asking the country's health watchdog, the Health Information and Quality Authority (Hiqa) to examine the case.
"I want this expedited as quickly as possible and I made that clear," Dr Reilly said.
"I want to give the family certainty as quickly as possible and not left in limbo for a moment longer than necessary.
"But it has to be thorough, there's always this balance that has to be struck.
"I want the findings of this to stand up to the scrutiny of the world."
About 2,000 people took part in impromptu protests last night after hearing Mr Halappanavar relay the final moments he shared with his dying wife. Protesters outside Leinster House hold placard in support of legalising abortion after the death of Savita Halappanavar
Further demonstrations are planned for Saturday, with Choice Ireland organising a march through Dublin city and A candlelit vigil at Ireland's Dail parliament.
The tragedy comes 20 years after a separate controversial abortion case split the country, and two years since judges in the European Court of Human Rights called for the Government to give clear direction on when a termination is legal. A protester holds a candle next to a picture of Savita Halappanavar
The Galway-Roscommon University Hospitals Group and the Health Service Executive's (HSE) national accident management team announced two separate investigations into Mrs Halappanavar's death.
Ireland's prime minister, Taoiseach Enda Kenny, and Dr Reilly both expressed their deep sympathy for Mr Halappanavar.
The HSE confirmed last night that it will appoint an independent, external expert in obstetrics and gynaecology to its investigating team.
A report from a 14-member expert group advising the government on abortion laws - in the wake of the European Court of Human Rights ruling - landed on the health minister's desk on Tuesday night.
The Taoiseach said the Cabinet will examine the expert group's findings before a response is given to the court judgment on or before November 30.