Able students are put off applying to the most selective institutions by the cost of living, distance from home and future job prospects, new research shows.
Privately-educated bright teenagers are still almost twice as likely to apply to a top university than those at state schools, the report also reveals.
The study, commissioned by the Sutton Trust and the Department for Business, Innovation and Skills (BIS), surveyed more than 13,000 students with at least three B's at A-level to examine why they chose to apply to particular universities.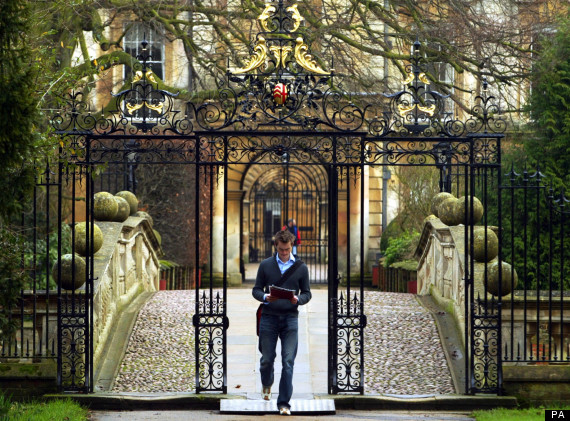 Bright students are being put off top universities, such as Cambridge, because of financial worries
It found that just two in five (42%) of high achievers who went to state schools submit two or more applications to the UK's 36 leading institutions, compared to 73% of those educated privately and 53% of those at grammar schools.
Sutton Trust chair Sir Peter Lampl said the findings show that there is a group of bright students who need extra support when choosing where to continue their education.
According to a Sutton Trust report published in 2004, around 3,000 teenagers with good enough A-level results to win a place at one of the UK's 13 most selective institutions did not end up studying at one of these universities.
Thursday's report reveals that the most important factors influencing decisions on where to study were the degree course and its content, but the findings also show that bright students applying to the top universities also based their decisions on an institution's prestige and academic excellence.
These students were also more likely to believe in their own abilities than other high-achievers who did not apply to top universities.
The report also found that able students who did not apply to the best universities were concerned about how much the living costs would be, the distance from home and their job prospects.
Sir Peter said: "This research delves behind the raw data showing that thousands of young people don't choose the best university for them, and reveals a group of bright students who need extra support and encouragement to make the right decisions.
"It is vital that universities work more closely with schools and colleges so that talented young people from non-privileged backgrounds at comprehensive schools and colleges study the right subjects and gain the same level of confidence as those at independent and grammar schools."
Universities Minister David Willetts added: "Going to university is one of the most effective ways of boosting social mobility. But choosing what and where to study is a life-changing decision that can be incredibly daunting.
"That's why we are so determined to make it easier for people to meet their aspirations and fulfil their ability irrespective of where they grew up.
"That is why it is important that everybody - teachers, parents, and indeed politicians - is open about the huge opportunities that higher education can provide many young people from all backgrounds."
On Wednesday Willetts suggested he would like to see leading universities write to bright teenagers to encourage them to apply for their degree courses.
"I would love it if our most prestigious universities could write to kids who get good GCSE grades saying 'By the way, have you thought of applying to us, and if you did want to apply, this is the summer school you can come to, this is how we could help maximise your chances'," he told BBC Radio 4's World At One.
He added: "Universities are entitled to look behind the A-level grades to assess who are the people who are going to be the best performers at university. It isn't social engineering."
Writing directly to students could prove difficult due to data protection laws, but it was suggested that data on GCSE results could be used to identify schools where pupils achieve good results, but do not go on to study at leading universities.
Dr Wendy Piatt, director-general of the Russell Group, which represents 24 of the UK's leading institutions, including Oxford and Cambridge, said: "Students deserve high-quality advice that fosters ambition and we are doing our best to provide as much information as we can but we urge teachers to get in touch with our universities direct to find out more.
"We are fully committed to increasing the number of students we recruit from disadvantaged backgrounds with the ability, potential and determination to succeed on our very demanding courses.
"We can't offer places to those who do not apply and we already know, even with good grades, state school students are much less likely to apply to top universities than those at independent schools.
"Together with not achieving the right grades in the right subjects, this is one of the key reasons why students from disadvantaged backgrounds are less likely to attend leading universities."
Pam Tatlow, chief executive of million+ which represents a group of new universities, said: "The focus on so-called selective universities is misplaced. All universities have selective courses.
"The key issue is whether students choose a course and a university which is right for them and where they are likely to succeed.