Independent candidates have won 12 of the 41 posts in the first elections for crime commissioners, with many shunning bigger political candidates in the contest.
Results show an even split between Labour and Conservative candidates, with defeat for Lord Prescott the biggest shock of the first elections. With one result still to come in, the Conservatives have won 15 commissioner posts, whilst Labour have 13.
It was another bruising day at the polls for the Liberal Democrats, who looked set to trail UKIP in fourth place in the overall vote.
However David Cameron has been forced to fight off yet another looming disaster after a historically low turnout for the newly-elected police and crime commissioners.
The PM even admitted the "turnout was always going to be low" but still refused to accept a lack of voting meant PCCs would have little to no mandate.
Newport City Council told the Huffington Post UK that at one polling station in the area not one resident voted for their local PCC candidates all day.
Meanwhile, an in-depth investigation into dire voter turnout at the polls for police and crime commissioners is being launched by an elections watchdog.
Speaking during a visit to Wiltshire, where Tory candidate Angus Macpherson became the first PCC to be elected, the Prime Minister said: "Yes, they have a mandate and look, the turnout was always going to be low, when you're electing a new post for the first time.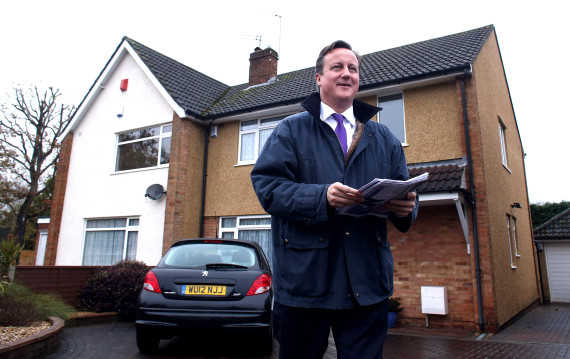 David Cameron helps deliver election leaflets for Ken Maddock, Avon and Somerset Police and Crime Commissioner candidate
"But remember, these police and crime commissioners are replacing organisations that weren't directly elected at all.
"For the first time, people are going to have a local law and order champion, here Angus Macpherson, and I think he will do a great job and congratulations to him."
While some critics took to social media such as Tumblr to mock the elections, other critics lined up to have a swipe at Cameron - including members of his own party.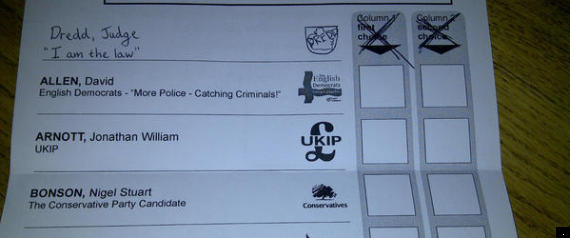 A Tumblr blog has been set up of marked ballot papers
Conservative MP Conor Burns has said that he believes the Tory Party will "regret" creating elected police and crime commissioners.
Burns, a former ministerial aide, added that he himself regretted ever voting for the Bill which led to the introduction of PCCs.
Katie Ghose, the chief executive of the Electoral Reform Society, said: "This election has been a comedy of errors from start to finish. There have been avoidable errors at every step, and those responsible should be held to account."
And shadow home secretary Yvette Cooper said: "We warned the Government repeatedly that they had the wrong approach and that turnout would be low. Theresa May and David Cameron didn't listen and it is shocking that they have spent £100 million on these elections rather than on 3,000 police constables instead.
"Time and again on the doorstep people told us either they didn't have enough information, didn't know the elections
were happening, didn't support them or didn't want to go out in the dark to vote." 'This election has been a comedy of errors from start to finish,' said the Electoral Reform Society
But Conservative co-chairman Grant Shapps insisted that the PCCs will have more democratic legitimacy than the abolished police authorities which they are replacing, which were made up of local councillors, magistrates and appointees.
Mr Shapps told Sky News: "Five million people will have gone out and voted in these elections yesterday, so these new crime-busting police commissioners are going to have so much more credibility and legitimacy than the chairmen of the police authorities that they are replacing."
Cameron also spoke out as figures suggested turnout was close to single percentage figures in some areas.
Labour accused the Government of running a shambolic information campaign in the run-up to the first elections for the police and crime commissioners, who will take take the powers of police authorities in the 41 force areas in England and Wales outside London.
Mr Cameron also played down the significance of the voting for his own Conservative Party, which is expected to lose its Corby Parliamentary seat in a by-election that was also held yesterday.
He said: "More broadly across the country, I am expecting pretty classic mid-term results in Corby and elsewhere and of course the Government will listen carefully to those.
"But I think what is also emerging is that if Labour can't win in places like Bristol and Hull and even by-elections in Swindon and the middle of Wales, there is no enthusiasm for the alternative."
He insisted that people were beginning to understand the point of PCCs.
He said: "I think it takes time to explain a new post. I found, going around the country, people were beginning to get the idea of a local law and order champion.
"Now they have got them and those people in post will be able to prove their worth, that they are holding the police to account, they are getting things done for local people, they are prioritising the law and order crackdown that the people want to see.
"My predictions is that the turnout will be much higher next time around."
#PCCSpoil - Ballot Papers