Twenty-three people, including nine children, have reportedly been killed by Israeli airstrikes and shelling on Gaza on the bloodiest day since the crisis began.
Gaza health officials said five women, including one 80-year-old, and four children were killed when an Israeli airstrike hit the home of Hamas member, Mohamed Dalou, the BBC reports.
It brings the total death toll to 72, including three Israelis who were killed when a Palestinian rocket hit a house on Thursday.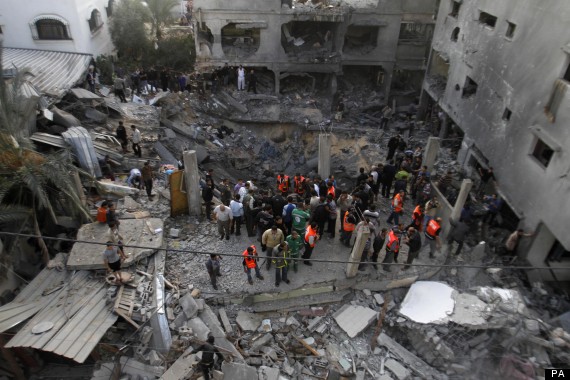 Palestinians stand in the rubble of the Dalou family house following an Israeli air strike in Gaza City
Gaza's medical facilities have been overwhelmed by the casualties.
Palestinian militants continue to fire rockets into Israel with a number of injuries reported in the towns of Ashkelon and Ofakim.
Israeli prime minister Benjamin Netanyahu has warned the country is prepared to "significantly expand" its operation in Gaza as "Operation Pillar of Defence" enters its fifth day.
The Israeli Defence Force has mobilised 75,000 reserve troops leading to speculation of a full-blown ground offensive.
The UK's foreign secretary William Hague warned on Sunday that Israel risks losing international sympathy if it launches a ground invasion in Gaza in a bid to crack down on militants.
Two media buildings were also hit in Gaza with eight Palestinian journalists hurt - leading Israel's president Shimon Peres to deny they were targeting journalists.
Speaking to Sky News on Sunday morning, Peres says Israel made "supreme efforts" to avoid hitting civilians.
"Unfortunately, they [Hamas] use their bombs in their mosques to hide their arms, to make them headquarters of shooting. In spite of it, until now I believe almost no civilians were hit.
"We have bombed headquarters where they host journalists as well, it is very hard for us to know, but journalists are not our targets."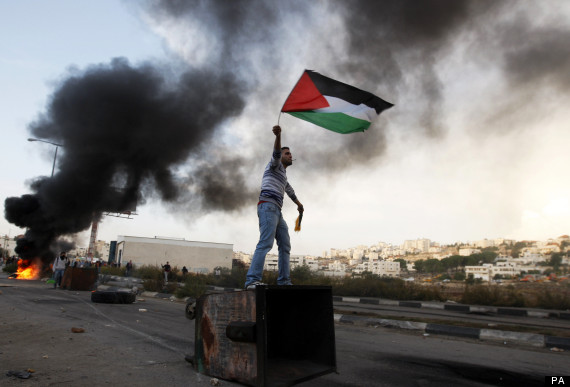 A Palestinian man waves national flag during a protest against Israel's operations in Gaza Strip near the West Bank city of Ramallah
On Saturday night it was reported by Haaretz that Yishai said the conflict's purpose was "to send Gaza back to the Middle Ages" to make Israel "calm".
David Cameron has urged Israel to "do everything possible" to end the crisis in Gaza as its military continued to trade missile strikes with Hamas amid fears of a new ground war.
Barack Obama has said America is "fully supportive of Israel's right to defend itself".
Egypt is leading efforts to broker a ceasefire and an Israeli envoy was in Cairo for talks today although the prospects for agreement with Hamas are not considered very high.