Hundreds of thousands of children are trapped in houses in Gaza facing prolonged power cuts and depleting supplies of food and water, according to Save the Children.
The charity has called for an immediate end to the conflict between Israel and Gaza as fears grow that the situation will have a devastating affect on children who make up nearly half the 1.7m population of the Gaza Strip.
It said 25 schools, two clinics and a hospital have been damaged in the Gaza, while schools on both sides of the border remain closed during the conflict.
Osama Damo, part of Save the Children's team in Gaza, said: "It is a dangerous and terrifying time for children, who make up nearly half the population of the Gaza Strip.
"Most families have been trapped at home for four days, unable to leave to find basic supplies. With so many children already malnourished and suffering from anaemia, the impact on children's health is potentially devastating.
"There is no clean water so children are going to have to start drinking the polluted tap water soon which is going to cause more severe health problems. When they fall ill their parents can't take them to hospital."
Some are experiencing power cuts of up to 18 hours a day.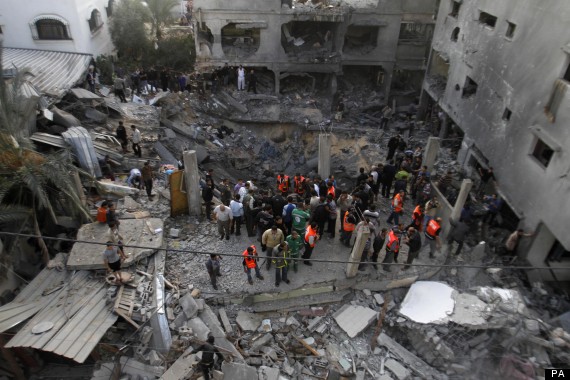 Palestinians stand in the rubble of the Dalou family house following an Israeli air strike in Gaza City
The charity warned that children already faced "very difficult" conditions before the current conflict, which has created severe food and water shortages and left hospitals running low on supplies.
Save the Children has called for an immediate and permanent ceasefire and launched an emergency response to the escalating violence.
As of this morning, seven children had died and 105 been injured in the conflict, according to the charity, which stressed that the rapidly changing situation meant the figures could now be higher.
Once Gaza becomes safe to enter, Save the Children teams will distribute food parcels, water and shelter materials to families, and vital medicines to hospitals.
It has also pledged to set up "child spaces" with specially trained staff and counsellors to help children cope with their experiences, as well as helping restart basic education.
Alex Schein, Save the Children's country director said: "The escalation of violence on top of an already fragile situation is extremely dangerous for children.
"They are being deeply affected by what they have experienced, and many could need specialist care and support. The fear among adults is unbelievable so you can imagine what it's like for children."
On Monday, William Hague pushed for a ceasefire in the conflict, warning that Israel risked losing international sympathy if it escalated it's campaign and launched a ground offensive into Gaza.
But the Foreign Secretary repeated his insistence that Hamas bore "principal responsibility" for the violence and urged its leaders to cease a barrage of missiles still being fired at Tel Aviv and other areas.
Israeli prime minister Benjamin Netanyahu told his cabinet the Israel Defence Forces were prepared for a "serious broadening" of the operation - amid fears it will send in troops.
Israeli airstrikes continued to hit the enclave during the early hours of this morning as the violence entered its sixth day.
Health officials said rockets hit two houses belonging to a single family, killing two children and a woman and injuring 30 others - half of them children. Israeli soldiers on tanks in a staging area near the Israel Gaza Strip Border, southern Israel
It came less than 24 hours hours after several women and children were among 11 reportedly killed in an airstrike on a residential area as Israel expanded its targets to what it said were the homes of wanted militants.
Two media centres were also attacked - with Hamas communications the alleged target - that wounded six local journalists and damaged international broadcasters' equipment.
The World Health Organisation (WHO) said it is deeply concerned about the situation and its impact on the health and lives of civilians in the area, while charity Save the Children said hundreds of thousands of youngsters are trapped in houses in Gaza facing prolonged power cuts and depleting supplies of food and water.
Medical officials said 37 civilians are among 77 killed so far. Three Israeli citizens have also died.
United Nations Secretary General Ban Ki-moon added his voice to growing calls for a ceasefire saying he was heading to the region to personally appeal for an end to the violence.
"This must stop," he said.
"Any further escalation will inevitably increase the suffering of the affected civilian populations and must be avoided."
Speaking to Sky News, Hague said the UK was "gravely" concerned about this situation.
"We call on Hamas again to stop the rocket attacks on Israel, it is Hamas that bears principal responsibility for starting all of this and we would like to see an agreed ceasefire - an essential component of which is an end to those rocket attacks," he said.
"The Prime Minister and I have both stressed to our Israeli counterparts that a ground invasion of Gaza would lose Israel a lot of the international support and sympathy they have in this situation.
"A ground invasion is much more difficult for the international community to sympathise with or support, including the United Kingdom."
Hague accused Iran of playing a key role in supplying Hamas militants with arms and the rockets which sparked the current crisis.
And he said it was vital to look beyond the "hour to hour" developments on the ground and seek a solution to the wider regional issues.
Liberal Democrat deputy leader Simon Hughes the danger of the crisis cannot be exaggerated.
"The last thing needed now in the Middle East and North Africa is an escalating conflict spilling out from Gaza," he said.
"The rocket attacks on Israel by Hamas are unjustified, should never have happened and should end immediately.
"But the Israeli government must not overreact, must not launch a ground attack on Gaza and should seek to de-escalate the tensions on the ground.
"Now is the time for everybody in leadership and with influence in the region and beyond to seek a ceasefire and a truce."
Egypt is leading efforts to broker a ceasefire and an Israeli envoy was in Cairo for talks yesterday although the prospects for agreement with Hamas are not considered very high.
US president Barack Obama firmly backed Israel's right to defend itself against the militant rocket attacks but joined cautions against "ramping up" into a ground war.
Daniel Taub, the Israeli ambassador to the UK, said the country was reluctant to send its troops into Gaza, but that a "dramatic increase" in violence meant it "could not sit still" and had to start mobilising its forces.
Asked if he was worried that Israel would lose international support and sympathy if a ground invasion was launched, Taub told ITV's Daybreak: "We are very concerned about international support but also very concerned about the lives of our citizens and in that case we have to do what any responsible country would do.
"We don't want to have a ground operation. The answer is Hamas to stop firing and to have a genuine ceasefire that is going to last."
When asked by the BBC about recent Palestinian deaths, Taub said: "They are dying because unfortunately we have terrorists who place themselves in the hearts of civilian areas, and what we can't afford to do is say they are out of harm's way because if we do that we're sending an open invitation to every terrorist organisation to set up in a school or a hospital.
"Unfortunately we have to grapple with terrible dilemmas which do not seem to bother them at all."