David Beckham's LA Galaxy career will come to an end after next month's MLS Cup match with Houston Dynamo. It will bring to an end a five-year career Stateside which has been short on success on the pitch but high off of it.
Perhaps the player who established the fully-fledged footballer brand, Beckham has grown into one of the United Kingdom's most endearing figures, let alone sportsmen, despite not playing in English football for nearly 10 years. Once upon a time, they used to hang effigies of him...
Harking back to the former England captain's more competitive career in Europe, here are the best and worst moments over a career which began on 23 September in Brighton...
HIGHS
May 1992: Plays in the second leg of the Youth Cup final alongside Ryan Giggs, Nicky Butt and Gary Neville as United's latest graduates become the club's first academy side to win the competition since the Busby Babes.
September 1992: Makes his debut for United as a 17-year-old at Brighton & Hove Albion's Goldstone Ground as a substitute for Andrei Kanchelskis in the League Cup.
December 1994: Scores his first United goal against Galatasaray in a 4-0 win.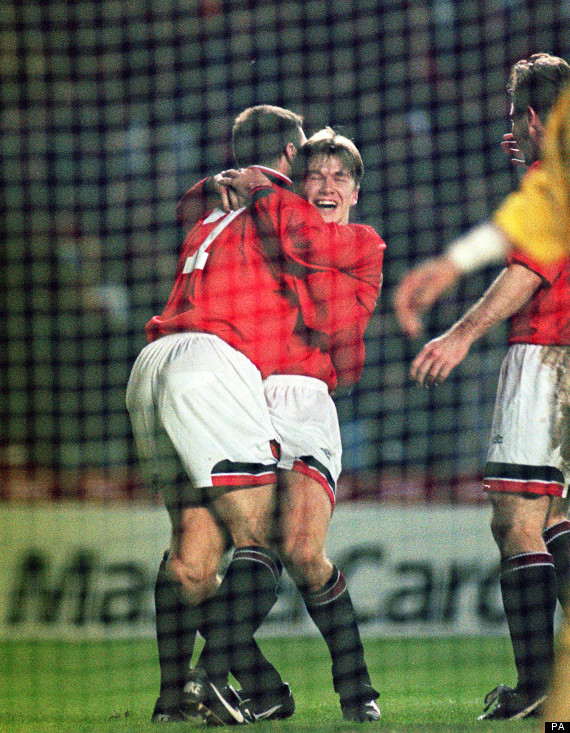 April 1996: Slots in the winner of the 1996 FA Cup semi-final versus Chelsea at Villa Park.
May 1996: Wins the Premier League and FA Cup with United, taking the pivotal corner which lead to Eric Cantona's winner in the latter against Liverpool.
August 1996: Scores past Wimbledon's Neil Sullivan from the halfway line. "It kicked open the door to the rest of my life," he said in his autobiography.
September 1996: Handed his England debut in the first 1998 World Cup qualifier against Moldova.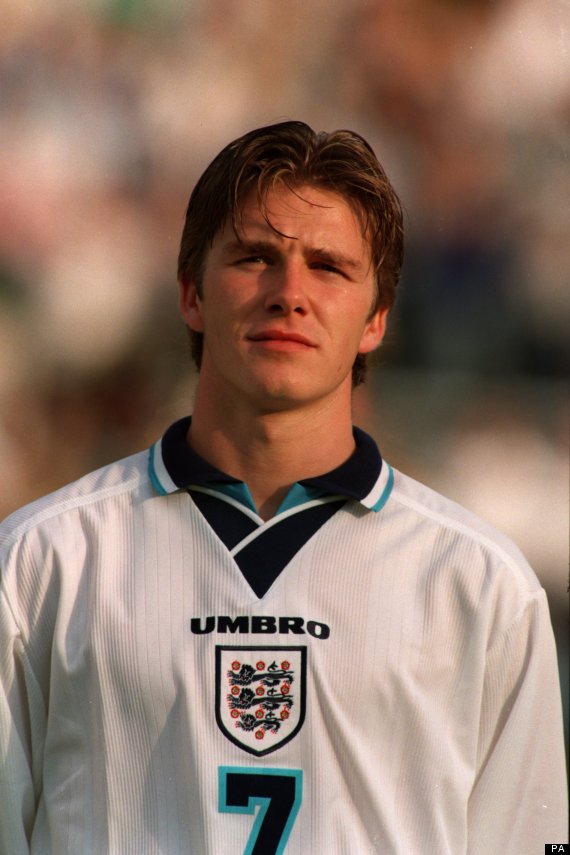 May 1996: Having won the PFA Young Player of the year, he wins his second title with United. In March he starts dating Victoria Adams.
June 1998: Scores his first England goal at the 98 World Cup past Colombia with a superb free-kick.
May 1999: Caps off a phenomenal season by winning the Treble with United.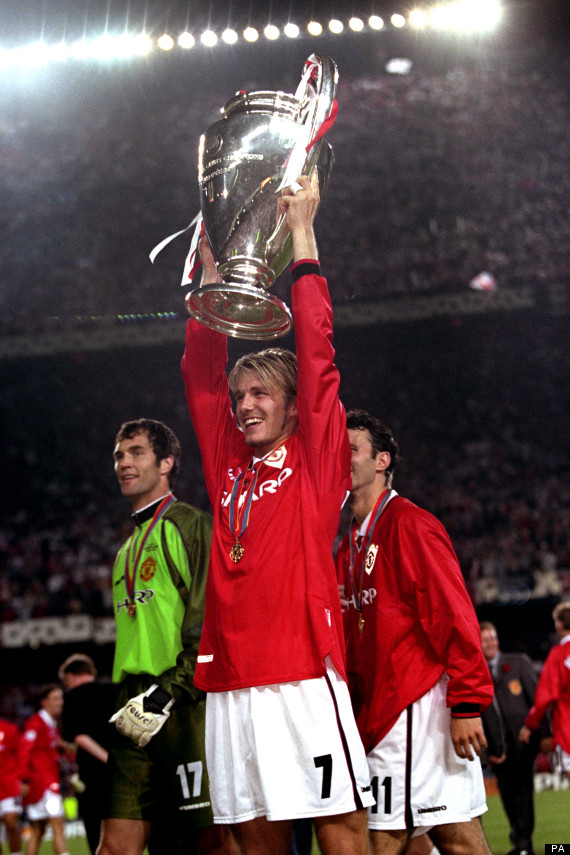 December 1999: Part of the United squad which triumphs over Palmeiras in the Intercontinental Cup in Japan.
May 2000: Wins the Premier League for the fourth time with United.
November 2000: Made England captain for the first time by interim coach Peter Taylor for a friendly in Italy.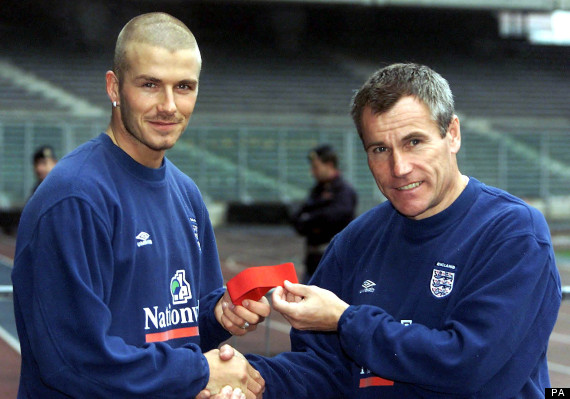 February 2001: Confirmed as full-time England captain by new coach Sven-Göran Eriksson.
March 2001: Scores the winner in Eriksson's first competitive match against Finland. It is Beckham's first goal for his country since the Colombia free-kick.
May 2001: Wins a third successive league title with United at a canter.
October 2002: Nets a last-minute free-kick against Greece to assure England's qualification to the 2002 World Cup.
June 2002: Hits the winning penalty past Argentina in one of England's greatest World Cup wins in their second group game.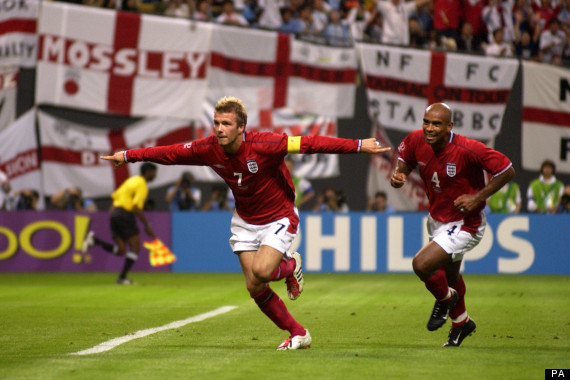 May 2003: Signs off his United career with a goal at Everton as well as a sixth and final Premier League crown.
June 2006: Becomes the first England player to score at three consecutive World Cups when he drops a free-kick in past Ecuador to win the last 16 tie.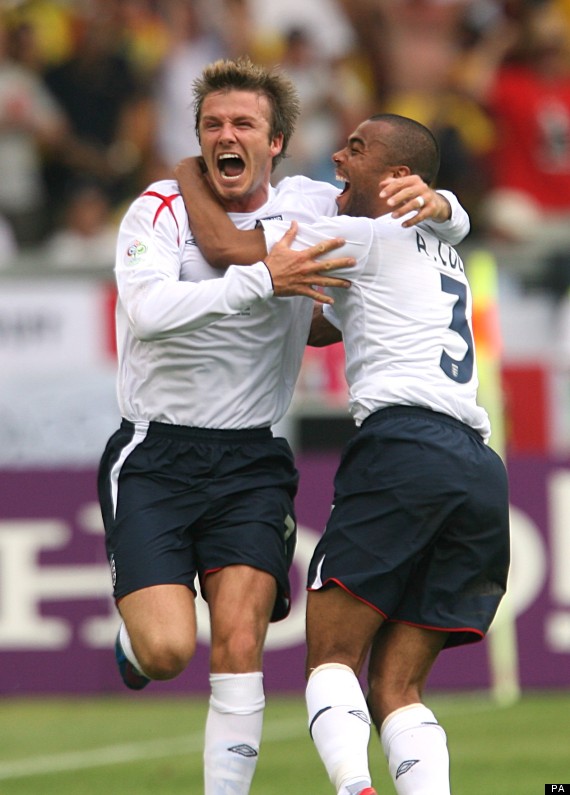 June 2007: Wins the Primera Liga with Real Madrid in his final match with the club before leaving for LA.
March 2008: Becomes the fifth player to win 100 England caps after he plays against France in a Parisian friendly.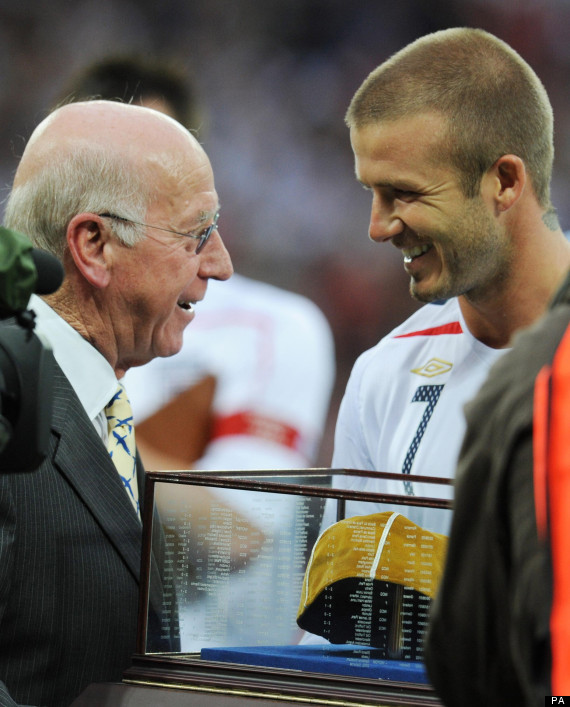 October 2008: Agrees to join AC Milan, who will become the fifth club he will have played for.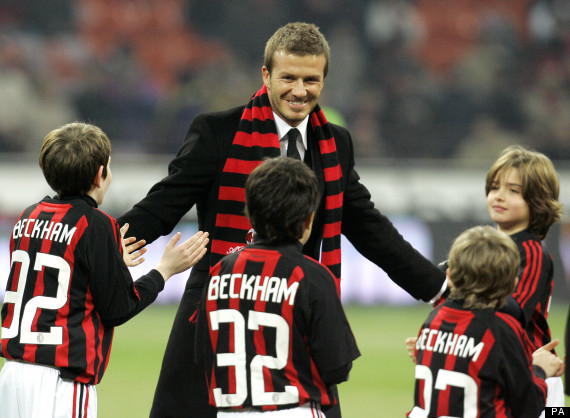 November 2011: Finally lifts silverware in an LA Galaxy shirt after they defeat Houston Dynamo in the MLS Cup.
David Beckhams Career in Pictures
LOWS
June 1998: Sent off in the World Cup round-of-16 against Argentina. England lose 4-3 on penalties and the 23-year-old is vilified.
January 2000: Red-carded in Manchester United's first World Club Championship match against Necaxa. The Reds come from behind to draw 1-1.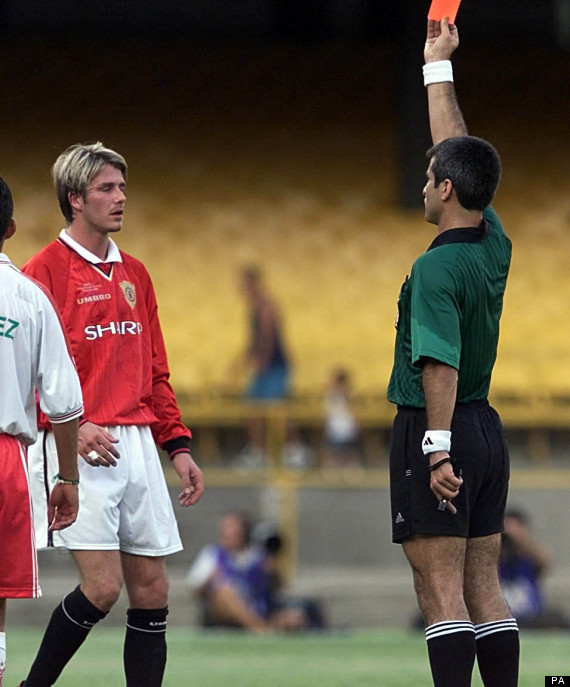 February 2000: Has a blazing row with United manager Sir Alex Ferguson at the club's training ground, which is snapped by photographers, after arriving late. He travels with the team for Sunday's crucial match at Leeds but is dropped and watches from the stands. United win 1-0 to go six points clear of their Yorkshire rivals at the top of the Premier League.
February 2003: After United lose 2-0 to Arsenal in the fifth round of the FA Cup, Ferguson kicks a boot in rage in the dressing room at full-time. It smacks Beckham just above his left eyebrow as blood seeps out, compelling the enraged player to go for his manager but is held back. "Just f*****g patch him up," Ferguson advises.
October 2003: Skies a penalty against Turkey in a crucial European Championship qualifier. He is taunted by Aston Villa defender Alpay, which leads to a mass fight in the tunnel at half-time. England draw 0-0 and qualify for Euro 2004.
May 2004: Sent off for the first time as a Real Madrid player for calling a linesman "hijo de puta" (son of a whore).
June 2004: At the European Championship, with England 1-0 up against France, he has a penalty saved by Fabien Barthez. France win 2-1 with two late goals from Zinedine Zidane.
June 2004: Again at the Euros, Beckham misses a penalty. This time he blazes over England's first spot-kick in their quarter-final against Portugal. The hosts win 6-5 on penalties and Beckham is criticised for a having a poor tournament.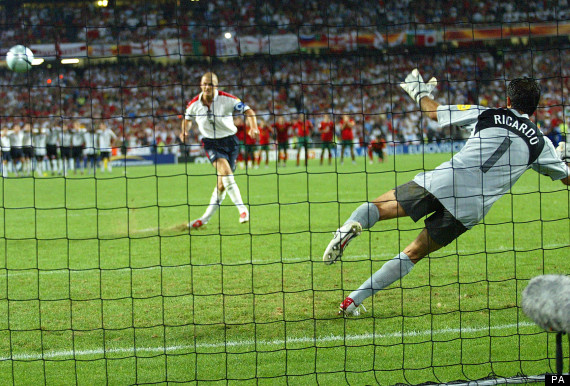 October 2005: Sent off for the second time in his Three Lions career in the World Cup qualifier against Austria at Old Trafford.
October 2005: He is sent off against Valencia for applauding in a sarcastic manner, but has the red card overturned days later.
June 2006: Holding back the tears, he relinquishes the England captaincy after another underwhelming tournament the day after the World Cup quarter-final defeat to Portugal.
August 2006: Omitted from Steve McClaren's first England squad entirely. He eventually returns in June 2007.
January 2007: Frozen out by Real Madrid coach Fabio Capello after agreeing to move to Major League Soccer side LA Galaxy.
February 2007: Sent off in injury time against Real Betis.
July 2009: Heckled by LA Galaxy fans angry he left the club to join AC Milan on loan, he jumps over advertising hoardings to confront one vocal supporter.
March 2010: Snaps his Achilles whilst on-loan at Milan, scuppering any chances of him playing at a fourth consecutive World Cup.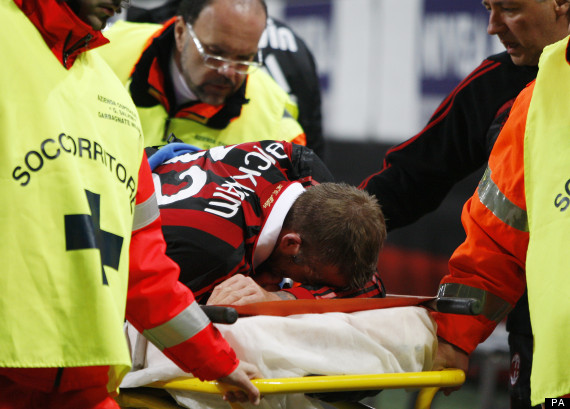 June 2010: Left out of Stuart Pearce's Team GB London 2012 Olympic squad.