The 150 journalists and fans aboard Rihanna's 777 tour plane can breathe a big sigh of relief - it is all over.
Reporters and Twitter users had told of how travelling around the world and partying with the popstar as she performed seven gigs in seven countries over a week, turned into a nightmare after a lack of sleep, food and access to the star.
But RiRi has now issued an apology to them insisting she had to rest up to get through the gruelling tour.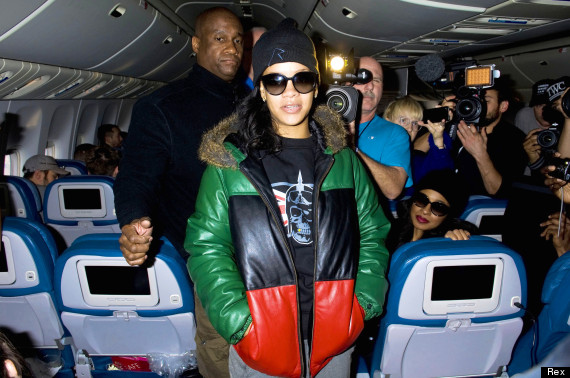 "I know you guys got barely any dirt. But I had to be good. I still sound like sh*t," she told Us Weekly ahead of her final gig in New York last night.
"It's impossible to spend time with everybody, and I'm sorry I didn't. But this was excellent and I would definitely do it again."
She continued: "I would do this next time with more people, more cities and sit back with the fans more. I had to preserve my health. Normally, I'd be back here popping bottles with y'all. I had to preserve my voice. I was worried about my body more than partying on the plane, so I had to just sleep whenever I could. I hope you guys had as much fun as I did."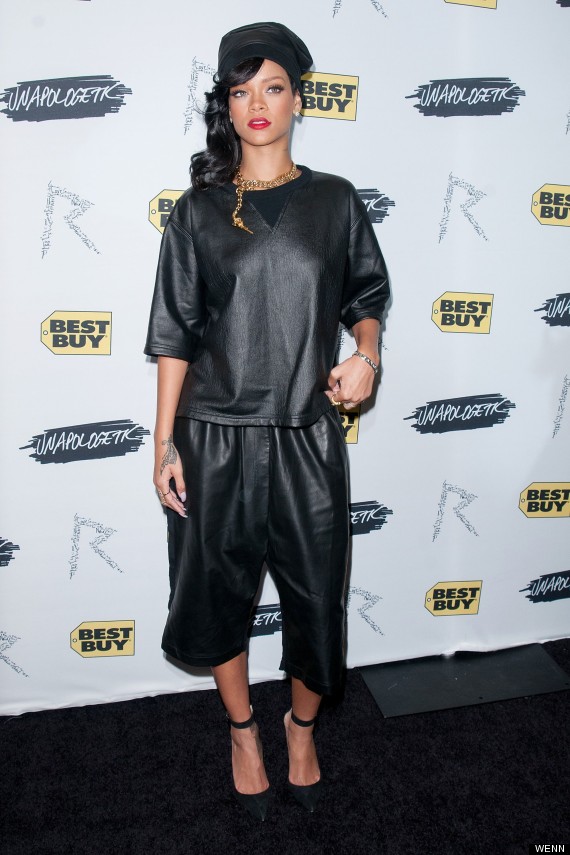 Rihanna attended the launch of her album 'Unapologetic' as her tour finished in New York last night
Passengers aboard the plane revolted against the star after she didn't make any appearances apart from when she was on stage (even then she was often hours late) with one radio presenter streaking down the aisle in protest.
"I want to see the naked Australian!" Rihanna added.
Rihanna's Busy Couple Of Weeks
RiRi's rider for the tour has also been uncovered by Metro insiders, who claim the star has been living on a diet of sweets and energy drinks.
However, a behind the scenes video taken during the tour shows how she became ill aboard the plane, and was stocking up on medicine to make herself feel better.
She said: "I woke up coughing on the plane and I took some cough syrup, some cold and sinus tablets, lozenges ... I'm drinking lots of water and [multivitamin supplement] Berocca.
"This entire trip, in order to make it to the end, you have to literally nurse yourself every step of the way the entire time.
"Because it's so much work - so much on your body and so much on your immune system it weakens you. And you're open to so many other viruses that are just there."
She added: "There's so many people on the plane. One flight alone is bad enough, seven of them... We'll definitely be sharing some flu's on this plane."
HUFFPOST UK CELEB ON FACEBOOK | FOLLOW US ON TWITTER
Rihanna's Busy Couple Of Weeks
WIN SIGNED COPIES OF TULISA'S AUTOBIOGRAPHY
href="http://www.huffingtonpost.co.uk/2012/11/06/huffpost-celeb-awards-201_n_2082275.html" target="_hplink">VOTE IN THE 2012 HUFFPOST CELEB AWARDS