The Rolling Stones have recruited a Hollywood A-lister for their latest video, and persuaded her to go topless.
WATCH THE VIDEO for 'Doom and Gloom' above.
For their well-received 'Gloom and Doom' song, 'Dragon Tattoo' star Noomi Rapace has done the honours of appearing in the video. And, seeing as it's the legendary rockers asking, it was only polite to cover herself in rubbish, smear blood all over her face, writhe around in money and then bare her chest.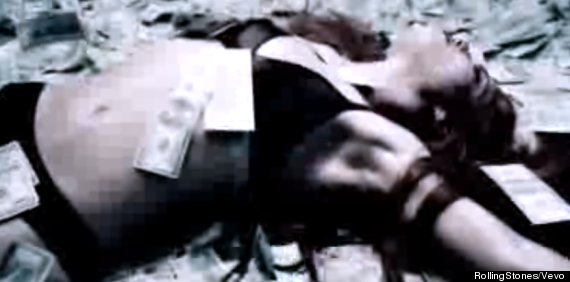 Noomi Rapace gives it her all for the Stones in their new video
The chaps are, understandably, covered up, but Mick Jagger proves he's still got it going on, jiggling around with an impressive amount of energy for a pensioner, while Keith Richards and Ronnie Wood play on guitars. And Charlie Watts remains his usual unflappable self on drums.
MORE: A Vulnerable Rolling Stones Caught On Camera - "a reminder of what made them so special"
Meanwhile, the band - who are starting their London tour this weekend - has confirmed that former members Bill Wyman and Mick Taylor are confirmed as special guests for these London shows, performing with the band for the first time in 20 years.
Mick Jagger is still gyrating merrily, and impressively for a 69-year-old
There is no support act on Sunday at London's O2, with the Stones taking to the stage at the earlier time of 8pm.
Apparently, the band will play for more than two hours, intent on giving fans, some of whom have shelved out thousands of pounds for tickets, the gig they deserve, packed with hits, classics and "one or two surprises".
Ticketholders are asked to make their way to the venue in time for this early Stones onstage time of 8pm.