If you thought Russell Brand couldn't get any more controversial than when he paired up with Jonathan Ross, think again.
The Comedian created a storm when he brought together two members of the Westboro Baptist Church - famous for picketing funerals for American soldiers with signs that say 'God hates fags' and 'thank god for dead soldiers' - and three of his gay friends.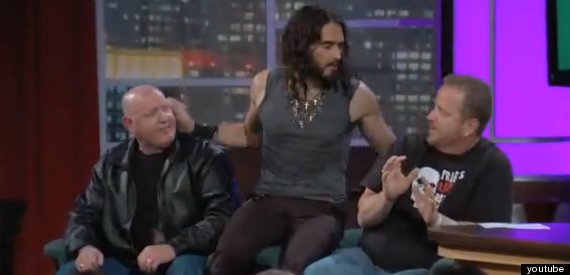 Don't touch me: Brand places himself between the men
The anti-gay group, who brought on a sign reading 'pimp fag Brand' appeared on the British comedian's new talk show in the US, Brand X.
After Timothy Phelps and Steve Drain described Brand was as an "advocate for Satan" he brought on his "mates", Cher, Carlos and Cici.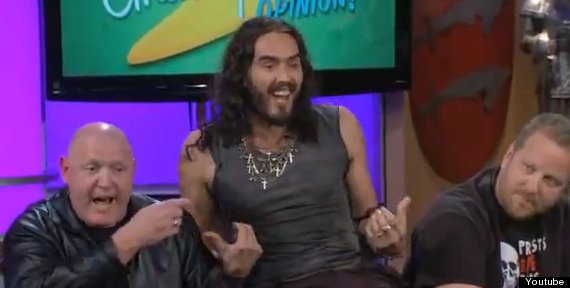 The Westboro Baptist Church has been described as homophobic and sexist by America's Anti-Defamation League
Holding his 'fag pimp sign' Brand said: "Before we start the interview, if anyone's attracted to these three men, give me a call. Russell Brand, fag pimp. I can give you a very, very, good price on Cici."
Cici then told the Church he was an "openly gay man and a Christian because God is love and love is for everybody."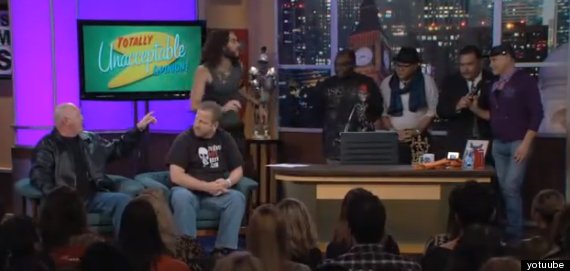 Meet my mates: Brand introduced the men to his gay friends
But he was told he was a "filthy pervert" by the Westboro Baptist Church.
"What worries me, Steve, is that to follow the 'must not lay with men' bit [of the bible] you've got to give up the 'tolerance and love bit'," Brand interjected.
Brand then placed himself between the two Westboro Baptist Church members, who shied from his touch.
"I really like your passion," he said. "But I really feel that our first duty as human beings should be loving and tolerant of each other," he said.