Israeli soldiers have apparently expressed their annoyance after a ceasefire with Hamas was announced on Wednesday, by lying on the ground to spell out "Bibi Is A Loser" - using the nickname for Israeli president Benjamin Netanyahu.
The picture, which has been posted on hundreds of Facebook and Twitter profiles, could not be immediately verified, but was posted on the Times of Israel, the Israel-American Renaissance Institute and on various pro-Israel Facebook groups.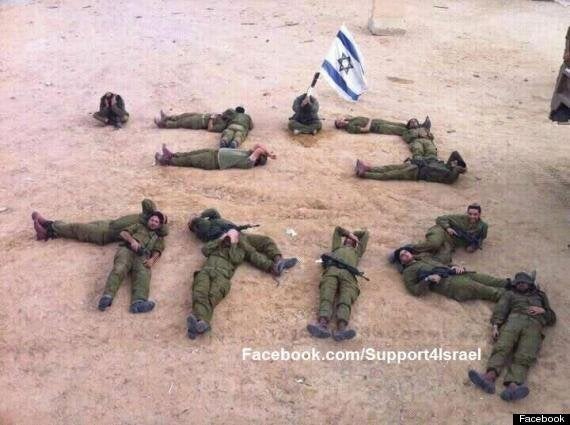 The photo has received thousands of shares and likes on different Facebook and Twitter pages
Residents in southern Israel, who have been under rocket bombardment from Hamas and other militant groups, have expressed frustration with the ceasefire.
Tens of thousands of reservist soldiers were called up for a potential ground invasion of Gaza, averted by the ceasefire.
Comments under the picture on Facebook ranged from those agreeing with the soldiers that the ceasefire had been premature, despite the mounting death toll.
But others called for the soldiers, whose battalion has not been identified, to be court-martialled for bring the IDF into disrepute. Palestinians celebrate the Israel-Hamas cease-fire in Gaza City
"I am afraid this lull will last for only a short while, and hope that at least we have garnered international support for a harsh response that will become necessary when the fire is renewed."
Around 1,500 rockets were fired into Israel, including ones aimed at the central city of Tel Aviv, over the eight-day conflict, with five Israelis killed. IDF soldiers embrace at an encampment on the Gaza border
Israel's retaliation for the rocket attacks was a missile bombardment of Gaza, killing more than 150 Palestinians, despite repeated claims that the Israel Defence Force would only target Palestinian militants, known combatants and rocket launching sites.
UN figures gave a total of 103 civilians killed, including at least 30 children, 12 of which under age 10, and 13 women killed.
A football pitch and a media building was also bombed in central Gaza.