The attack on Tottenham fans in Rome, which has left two stabbed, is a sad but predictable event and another chapter in English followers' troubles in the Eternal City. But whereas supporters of Liverpool, Middlesbrough, Manchester United, Chelsea and Arsenal have suffered to varying degrees at matches involving Roma, it is Lazio's ultras who meted out violence on Wednesday night. But who are the Lazio ultras?
The Ultra culture in Italian football is one of the most infamous and influential. Renowned for their fanatical support and impressive choreography on the terraces, the groups have also become synonymous with hooliganism.
Lazio's first ultra group, the Commandos Monteverde Lazio, was formed in 1971. Renamed the Eagles Supporters the following year they dominated the stadium terrace Curva Nord.
Since the turn of the century Lazio's Curva Nord faction at the Stadio Olimpico was dominated by the Banda Noantri, a group which was disbanded after members were either banned from stadiums or sentenced to prison. Ultras have invariably unveiled pro-Fascism banners as well, with former striker Paolo di Canio even aiming a Fascist salute in the direction of supporters when he played for the club between 2004 and 2006.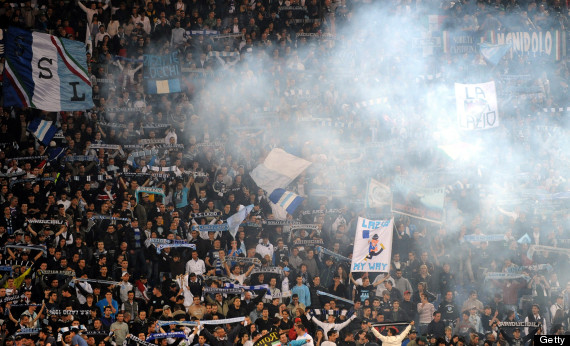 Lazio fans revel in the Stadio Olimpico's atmosphere
Last year the club's German striker Miroslav Klose was hailed with a banner which read "Klose Mit Uns", which translates to "Klose is with us", but also included fascist symbolism. The typography of the letter 's' was twice made to resemble the SS abbreviation of the Nazi army, something which the Polish-born Klose publicly denounced.
Lazio count the majority of Italy's biggest clubs as rivals but have formed a friendship with Internazionale's ultras. Struck around the mid-1980s, it was further fortified on the final day of the infamous Serie A 2001-02 when many Lazio fans supported opponents Inter.
Hoping they would beat Juventus to the Scudetto, the Biancocelesti however triumphed 4-2 to deny their visitors a first title since 1989 and many ultras called for manager Alberto Zaccheroni to be sacked.