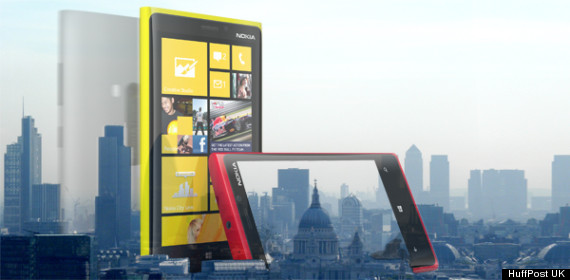 The Good:
Bold, confident design
Excellent camera
Nice software touches
The Bad:
Heavy and divisive looks
Lack of stand-out apps
Windows 8 remains problematic
Nokia's Windows Phone Lumia phones have won universal praise for their industrial design since their launch in 2011. And one of the words most often used to describe them?
"Bold".
What does that really mean? Well, for some it's 'bold' that Nokia is still even in business. Given the variously perilous state of the company's finances, many would have sold up, or else put the whole of the Finnish HQ into storage until such a time that the world is ready to buy 8210s again, presumably after some kind of apocalypse.
For others, 'bold' refers to colour, and pure, careful design. Last time Nokia came out with a Cyan/Magenta/White line-up of Lumia 900s and - especially with their 'poured-through' colour manufacturing - they really did stand apart. Then there was the device itself. Stark, round, futuristic - and running Windows Phone, in itself a bold move in a market where Android and iOS dominate.
No, arguably Nokia didn't sell enough of them. But the company clearly loved the praise, and they've taken it to heart.
They're sticking with bold.
Except in naming conventions. The follow-up to the 900 is the Lumia 920 - and it's a large, heavy, Windows Phone 8 device, which comes in bright red or almost neon yellow (plus slightly more understated white and black versions) ...
... and here's the thing: it's - yes - bold too. So much that it's ridiculous. Let's explain why.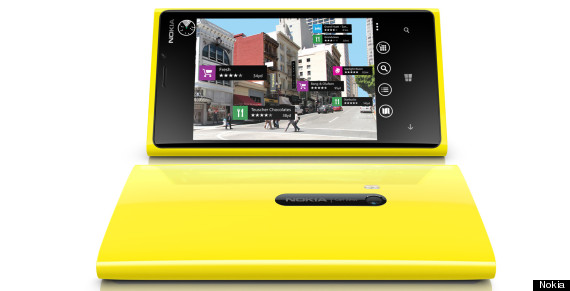 'Ridiculous'
We reviewed the yellow 920. Stand it on its flat bottom edge, as we did, and it seems to loom over everything else on a desk - it resembles a 'signature' London skyscraper, as if Nokia designed the phone by building a version 300m high and directing the process from ground level.
The screen is flat but slightly raised from the shiny, smooth polycarbonate finish. From afar the device looks plastic-y, but it doesn't feel as cheap as that word implies. It actually feels like its carved from alien space armour. Frictionless, but solid as a rock.
On the back you have a sheer wall of yellow, with a shiny, metallic logo and camera lens. On the top is a centrally-placed headphone jack, and on the sides just three minimalist buttons. Only the placement of the top speaker, front-facing camera and Nokia logo seem random, and a bit jumbled.
Then there's the weight. Other reviewers have taken flak for focusing on the fact that the Lumia 920 is twice as heavy as an iPhone 5. But it is a fact - and it's really noticeable. The phone is hefty, and it's the first thing most people we showed it to noticed. It's not a massive issue - weight can be pleasing as well as tiring - but you'll want to try before you buy.
The overall result is a phone that while it isn't as big as the Galaxy Note II, feels almost as ludicrous. And, yes, as bold.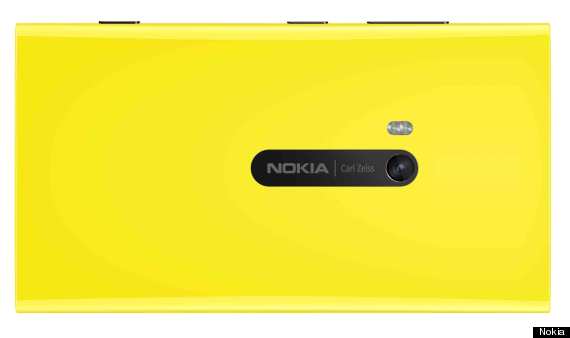 Specs: Excellence across the board
Specs wise, the Lumia 920 is excellent. It's a 4G LTE phone - so you can run it on EE if you're prepared to swallow the cost. The screen is a 4.5-inch, 1280x768 pixel panel that displays colours brilliantly. Blacks are especially rich, and hard to distinguish from the black colour of the bezel. It runs on a Snapdragon S4 processor, and has a very decent battery that gives up to 10 hours of talk time on 3G. And the fact that the phone comes with wireless charging (although the charger is extra) means it's less hassle to charge than many other phones.
The Lumia 920's camera has also been the focus of some contention, but we can report that while it's not quite up to comparisons with the absurd 42-megapixel snapper on the PureView 808, it's probably among the best cameras we've used on a phone. The 8.7-megapixel sensor and Carl Zeiss lens are boosted by a truly exceptional low-light mode, and Nokia's added software 'lenses', including easy clean-up editing and animation tools, give you even more options.
Windows Phone 8 Review: how we rated Microsoft's mobile OS
Software: Windows Phone 8 (and a bit)
In software terms, yes, this is a Windows Phone 8 device - and we've covered our opinions and reservations on that elsewhere. (In summary, we like Windows Phone more than ever, but a serious lack of truly stand-out apps, plus a divisive focus on staying in near-constant touch with your friends and family, means we don't rate it as highly as Android or iOS at this stage.) For the right user, it's a fine choice - just one that has to get better.
Like the HTC 8X, the Lumia 920 comes with a few bespoke software extras. This time around they include Nokia's excellent Maps, City Lens (an augmented-reality city explorer) and Nokia Music, which includes free, off-line radio stations. It's not a huge chunk of fried gold, but it's a nice package that distinguishes the device from competitors.
Conclusion: a bold phone equals a bold choice to buy one
Overall, the Lumia 920 is a very solid phone, with excellent hardware, a stand-out camera and greatly improved software.
But being as bold as the 920 comes with drawbacks.
In feeling more distinct and individual than usual, the Lumia 920 has taken Nokia back out on something of a limb. Unlike last year, it is the HTC 8X, not the Lumia, which is 'The Windows Phone'.
Instead Nokia has bet big on the bright, polycarbonate skyscraper that is the 920. The result is that choosing to make the Lumia 920 your main phone - as in, actually buying one - still feels as bold as the phone itself.
And about as risky.