Two cheerleaders are the latest members of an Indianapolis sports team to shave their heads in a show of support for their team's coach.
Throughout November, male members of the Colts American football team have been surprising their fans by appearing with bald heads.
But according a recent report, two female cheerleaders, Megan M. and Crystal Ann, have now got in on the act and cut off their locks, to show support for coach Chuck Pagano who has been absent for most of the season battling cancer.
See Megan M. and Crystal Ann having their heads shaved here..
Cheerleaders Shave Their Heads
The team's mascot, 'Blue', cut the hair of the cheerleaders during a match to raise money and awareness for US charity, Leukemia Research.
After the match, Megan M. took to Twitter to thank everyone for their kind words: "Thank you all for your support! The tweets are overwhelming! I will be sure to look at each one within this week. I'm feeling very blessed!"
She later Tweeted a picture of herself with Crystal Ann, saying how she was "blessed" to have the fellow cheerleader by her side:
The Colts team started shaving their heads in support of their coach after he lost his hair through leukaemia treatment and have been spreading awareness through via the Twitter hashtag #ChuckStrong.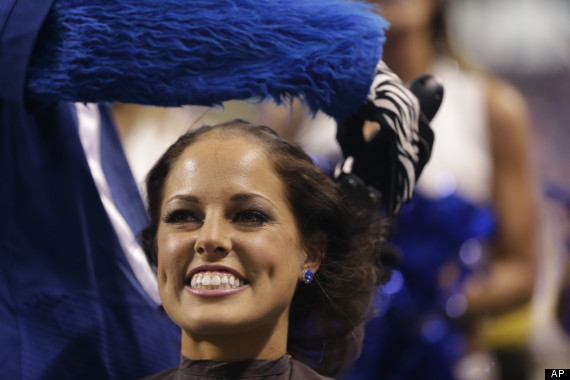 Megan M. having her head shaved at the match
The plan to shave the cheerleaders' hair was devised after mascot 'Blue' Tweeted them asking: "If I raise $10,000 4 leukemia research, will a cheerleader let me shave her head at our next game? #CHUCKSTRONG"
Within the hour cheerleader Megan M. accepted the challenge and was later joined by Crystal Ann.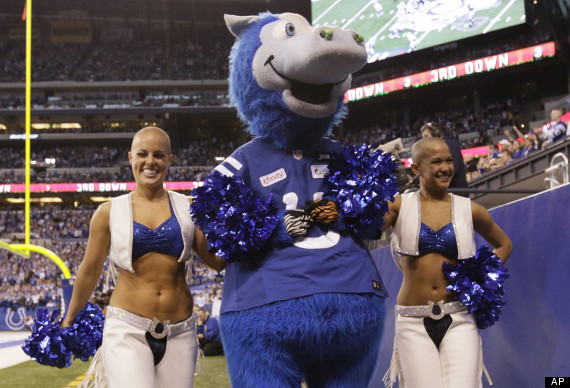 Megan M. and Crystal Ann with Blue
According to WTHITV, American TV station, mascot 'Blue', Megan and Crystal Ann have raised $22,670 during the past two weeks.