Wesley Sneijder has been told by Internazionale he will not play for the club again until he agrees to an "adjusted" contract, which could reignite Manchester United's interest in the playmaker.
Sneijder, 28, has played just 64 times for the club during two injury-afflicted years since the hegemony of Inter's 2009-10 treble-winning season.
He is believed to earn £200,000 at the Giuseppe Meazza and Inter have taken the drastic measure of ostracising him from the first-team reckoning until he accepts a wage reduction.
"We're patient and calm as we wait for the situation to evolve," said Inter sporting manager Marco Branca on the club website.
"The situation with Wes, who is part of the history of this club and a player we all care about, is that we've been discussing a possible - and for us necessary - adjustment to his contract for a while.
"We want to give the player and his entourage all the time they need to consider the terms of our proposal carefully, so the coach and the club have decided not to use the player in this period until things are clearer," he added.
Sneijder's strife in Milan is understood to have caught the attention of United, whose infamous pursuit of the Dutchman in 2011's summer transfer window ended in a stalemate.
A stultifying saga, Sir Alex Ferguson raged at Mail on Sunday journalist and one-time confidant Bob Cass for quoting the Scot on the club's attempts to sign Sneijder, while rumours ranged from United refusing to accommodate the Holland international's request to be flown to Manchester via a private jet to the deal being a fait accompli. Sneijder has not played since September
So irked by the Dutchman not swapping Milan for Manchester Ferguson apparently revealed to Diego Forlán, his one-time striker and then team-mate of Sneijder, at his 25th anniversary dinner he would not be recommencing his pursuit of the Ajax graduate. His brother, scout Martin Ferguson, even suggested United were never interested in signing Sneijder when all evidence pointed to the contrary.
The summer acquisitions of Shinji Kagawa, cut from the same cloth as Sneijder, and the additional attacking outlet of Robin van Persie appeared to corroborate the United manager's promise the boat had passed for Sneijder until RedIssue fanzine ran a snippet last month suggesting interest may have been rekindled.
Crucially Sneijder would not be cup-tied for the Champions League, with his individual role in Inter's 2010 achievement under José Mourinho one of the most eye-catching in any clubs' passage to Champions League success in recent years. United have also confirmed, in signing Van Persie at 29, that the 27-and-under policy no longer applies.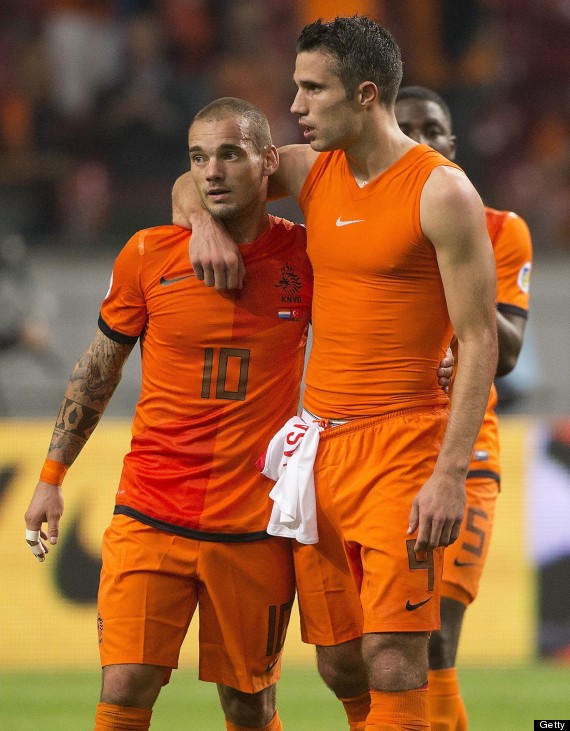 For country and club?
The regression of United's wingers may also have influenced Ferguson's thinking. Ji-Sung Park was sold to Queens Park Rangers in the summer while Antonio Valencia has bulked up to his detriment, looking scared of full-backs rather than vice versa. Ashley Young has emerged as an unpopular figure among supporters and Nani's contract issues appear to have placed him in the Old Trafford departure lounge. Ferguson has even opted for a diamond formation already this season and continues to persist with fish-out-of-water Danny Welbeck on the wing; a position Sneijder has excelled in.
But the caveat is that although Sneijder's transfer fee may not be as astronomical as it would have been two years ago his wages will be. There is also the issue of United's porous defence and paucity of midfield options. A blind spot for Ferguson for the best part of over seven years, the squad is yearning for the box-to-box combativeness of a Bryan Robson or a Paul Ince or a Roy Keane to shield Rio Ferdinand, Nemanja Vidic and Patrice Evra, all the wrong side of 30. Sneijder will be too in 18 months.