Manchester United chairman Martin Edwards, via Alex Ferguson, rebuffed the request. Bill Fotherby, the Leeds United managing director, was on the phone asking about the availability of United's quietly excellent full-back Denis Irwin, who had played for Leeds between 1983 and 86. But before the call was cut, Ferguson had an epiphany. Accounts relayed by him and Edwards have altered in the 20 years since, but we'll stick with the most frantic. Having been unable to mime the name successfully, the Scot scribbled it on a notepad. Eric Cantona. Two days later, on 27 November 1992, the Frenchman was paraded at Old Trafford. He cost £1.25m
Cantona's mark at United is indelible. The undisputed catalyst who ended the club's 26-year wait for an English championship, the Reds' era of domination began with his signing. He was the last and first pieces of jigsaw in separate puzzles, the talisman of two great sides who would defend their titles as Cantona, in five trophy-laden seasons with United, won four Premier Leagues and two FA Cups. Under Ferguson he found "happiness" as a footballer.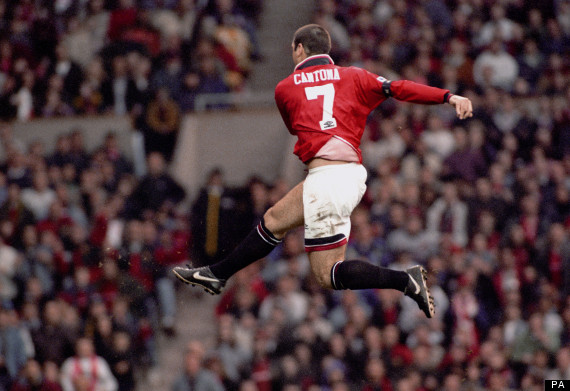 Striking the pose
Despite the light, there was also darkness. Two successive sendings off against Swindon Town and Arsenal (the latter harshly) in 1994, after a red card against Galatasaray in November, were the precursor for true madness on 25 January 1995. His kung-fu kick on Crystal Palace supporter Matthew Simmons initiated a nationwide witch-hunt against him, except among United supporters. Some supported the striker at court while others paid tribute to him literally going over the edge 10 years later at Palace's Selhurst Park by donning Cantona masks.
Eric Cantona: 20 Years With Manchester United
Had it not have happened United would surely have won a third title in succession but few would have swapped the cups for the kick. Cantona's anarchic act is remembered with genuine fondness not just by his followers but by the man himself.
"I have a lot of good moments but the one I prefer is when I kicked the hooligan," as he said himself in 2007.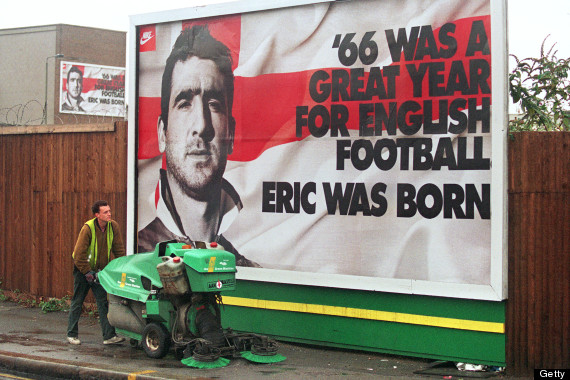 Nike anticipate his 1995 comeback
An eight-month ban followed for the indiscretion, with his return coming on 1 October, when he assisted Nicky Butt's opener and scored the equaliser in a 2-2 draw at home to Liverpool. It was the first of 20 goals in another double triumph, with the Reds' talisman volleying the winner against the Anfield club at Wembley in the cup final. Cantona, spearheading Fergie's fledglings as messrs Beckham, Butt, Scholes and Neville flourished, has hailed it as his greatest triumph with United.
His retirement a year later was typical; spontaneous and shocking, but his three separate chants continue to be aired at home and away United games. He has said he is scared it will stop, but it won't.
HIS THREE GREATEST GOALS...
SHEFFIELD UNITED, 1994/95
ARSENAL, 1995/96
LIVERPOOL 1996 FA CUP FINAL
AND THREE NEAR GREAT GOALS...
CHELSEA, 1993/94
EVERTON, 1993/94
NOTTINGHAM FOREST, 1996/97