Residents of around 500 properties have been told to leave their homes after the River Elwy broke its banks in north Wales.
North-west England and Wales again felt the worst of the weather on Monday night, where winds reached up to 55mph and torrential rain continued to fall on already saturated ground.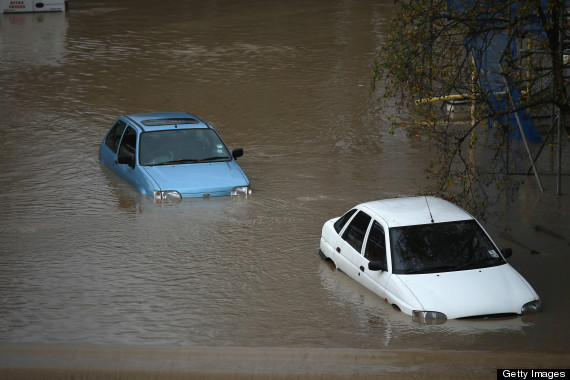 River Elwy bursts its banks
Three people have died in the flooding and drivers and residents from across the UK face further flooding chaos, forecasters have warned.
A leisure centre has been set up to accomodate those evacuated from their homes in North Wales, while in Pickering, North Yorkshire, around 50 houses could be at risk of flooding, reported the BBC.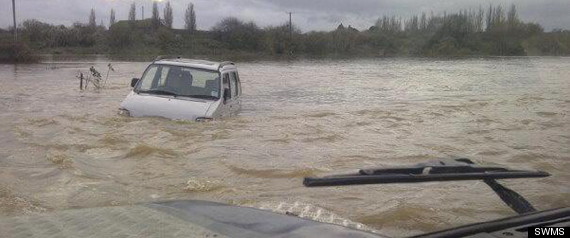 A man from Somerset had to be rescued from his car amid rising floodwaters
The Environment Agency has 198 flood alerts and 276 flood warnings in place in England and Wales. However the wind and rain is due to be replaced with a 'big chill' with freezing temperatures set take hold of the UK.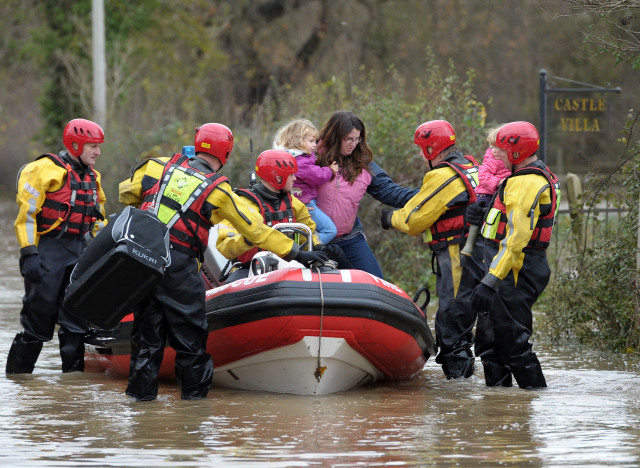 19-month-old Beth with her mother Tina Bailey and toddler Hannah are rescued from their house in Gloucester Over 900 homes have been evacuated
Sleet fell over the Pennines and snow is predicted over the Scottish mountains on Tuesday. Children make their way past a tractor down a flooded street in North Yorkshire
Gemma Plumb, a spokeswoman for MeteoGroup, the weather division of the Press Association, said: "Although the rain was lighter last night than previous days, the rain fell on already saturated surfaces adding to the risk of flooding.
"It will become increasingly drier in most places as we go through today, with just East Anglia and south east England holding on to the rain.
"By the end of the day most of the rain would have lifted but temperatures will feel noticeably colder this week, dropping to freezing overnight." A unnamed pensioner in Somerset was trapped inside his car as the flood waters rose around him
Last night the EA remained particularly concerned about the River Thames, Trent and the Severn, as well as about the Northamptonshire area.
The government has been criticised over the crisis, with claims on Monday that hundreds of thousands of homes may be left without flood cover due to a row between ministers and the insurance industry over how future flooding bills would be covered.
Ministers are failing to improve flood defences and prevent unnecessary building in areas at high risk of flooding, the second annual analysis by Wildlife and Countryside Link of coalition pledges to look after the natural environment found. Floods in Glastonbury
The Association of British Insurers (ABI) had claimed that talks about a "safety net" deal to ensure those in flood-risk areas can continue to afford their policies were at "crisis point".
Last night Environment Secretary Owen Paterson said talks were ongoing - and that ministers were committed to securing a good deal for both householders and the taxpayer.
Speaking in the Commons, Mr Paterson said it was too soon to quantify the full scale of the damage while the rain continues.
Pressed to comment on the row with insurers by his Labour shadow Mary Creagh, Mr Paterson said last night: "Today's story is complete nonsense. The very first meeting I had outside my office after taking office was with the ABI, we have had most constructive and detailed discussions with them since.
But while that is being built up, they want the government to step in to provide a temporary overdraft to cover any shortfall during intense periods of flooding.
Downing Street said it had put forward a proposal to the industry last week, which was being considered - a claim that was dismissed by the ABI. The floods have caused three deaths and huge amounts of damage throughout the UK
Over the weekend, a 21-year-old woman was killed and two people were seriously injured in Western Way, Exeter, when they were crushed by a tree as wild winds whipped southern England, and a 50-year-old man died after falling into a canal in Watford.
It followed the death on Thursday of a man who was killed when his car became wedged under a bridge near a ford in Rectory Fields, Chew Stoke, Somerset.
The A417 at Maisemore has already flooded and is closed this morning.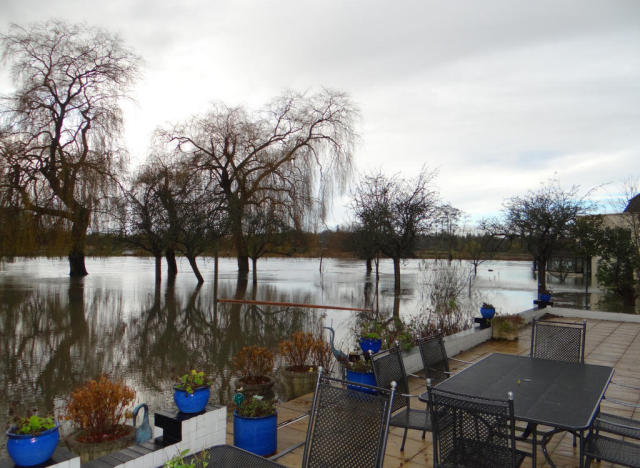 Paul Daniels' back garden was flooded on Monday morning
The River Severn at Tewkesbury was expected to peak at 4.8m this morning - a metre less than the 2007 peak.
Mr Paterson said last night more than 900 properties had been flooded, including up to 500 in the South West alone. He said evacuations may increase given the forecast.
He added that road and rail networks had also been affected, particularly train lines in the South West.
The Environment Secretary offered his thanks to emergency service staff, local authorities, the Environment Agency and volunteers for their response to the floods.