Four gay men are suing an organisation which promised to "cure" their homosexuality when they were teenagers.
Jews Offering New Alternatives for Healing (JONAH) describes itself as a non-profit international organisation, offering psychological and spiritual counselling starting at $100 for an individual session.
Its mission statement offers "those struggling with unwanted same-sex attractions to journey out of homosexuality." Chaim Levin, left and Michael Ferguson (centre, with his partner Seth Anderson)
A complaint was filed in the Superior Court of New Jersey against JONAH by the Southern Poverty Law Centre on behalf of the plaintiffs and two of their parents.
It alleges they were defrauded by the organisation into believing homosexuality is a "mental disorder" that could be cured, CNN reported.
JONAH co-director Arthur Goldberg, and "life coach" Alan Downing were also named in the court papers.
The lawsuit also alleges JONAH "lured them into paying for counselling with deceptive practices," Think Progress said.
Chaim Levin says his mother Bella spent more than $10,000 on JONAH counselling for him over a period of 18 months.
He claims he was taken to a locked, mirrored room with a male counselor twice his age and was told to strip, the New York Daily News reported.
Levin said: "I felt it was an unsafe environment. I was naked with a man twice my age and he told me touch myself. I resolved never to go back... never to talk about it."
Benjamin Unger was order to beat a pillow with a tennis racquet while shouting "Mom! Mom! Mom! Mom!" and Sheldon Bruck was informed "as long as you put in the effort, you're going to change."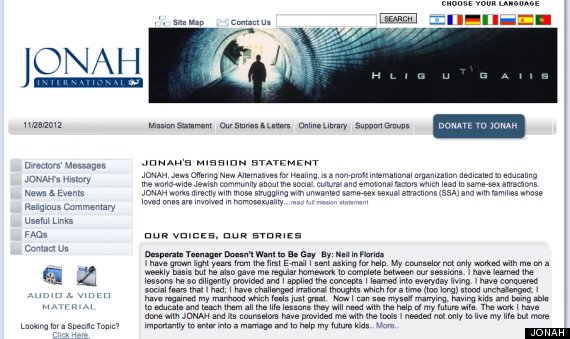 JONAH's online mission statement
According to the Chicago Tribune, Michael Ferguson was instructed to break through a human barricade to retrieve a pair of oranges, drink the juice from them and then place them in his trousers to symbolise the recovery of his testicles.
Ferguson is from a Mormon background while the other three plaintiffs are from ultra orthodox Jewish families.
The so-called conversion therapy that JONAH practices is "unconscionable and a sham," Sam Wolfe, a staff attorney at the Southern Poverty Law Center, said during a press conference on Tuesday.
When reached by ABC News, Goldberg said his organisation had healed hundreds of clients over its 14 years in service, but he admitted he could not speak of his counsellors' methodology and had "no background specifically in counselling."
The lawsuit, filed in Superior Court of New Jersey Hudson County, seeks declaratory, injunctive and an undisclosed amount of monetary relief, as well as court costs, according to ABC News.