Continuing in Huff Post UK's mission to sort cool stuff from PR fluff, further evidence has reached us to support the theory that Cyber Monday isn't the biggest shopping day of the year.
Communications firm Ogilvy has found social media is a bigger influencer on when we shop for Christmas and what we buy.
Its OgilvyAction report said: "Brits are getting more organised for Christmas this year by using social media to plan their Christmas shopping, tracking what their family and friends have requested and immediately buying that gift online.
"Research shows that a staggering 43% of Brits will respond to what Christmas gifts their loved ones have asked for on Facebook and Twitter, meaning that the last minute rush to buy presents will not happen this year."
Richard Woodward, managing director at OgilvyAction, said the rise of digital has also how Brits are shopping, with mobile devices being used more than ever before to make purchases.
"Social media has taken the stress out of Christmas shopping by giving Brits more visibility over what their friends and family want for Christmas, enabling them to buy gifts over a more extended period of time rather than having a last minute purchase panic on what used to be Cyber Monday," he added.
In a novel twist, almost a quarter of Brits are now also telling their friends and family what they want for Christmas through social networks and hashtags such as #whatiwantforchristmas and #dearsanta.
Apple tops the list of top ten most requested gifts of Twitter, with the iPhone and iPad the two most requested items.
Rakuten's Play.com has also found that people spread out the cost of shopping throughout December.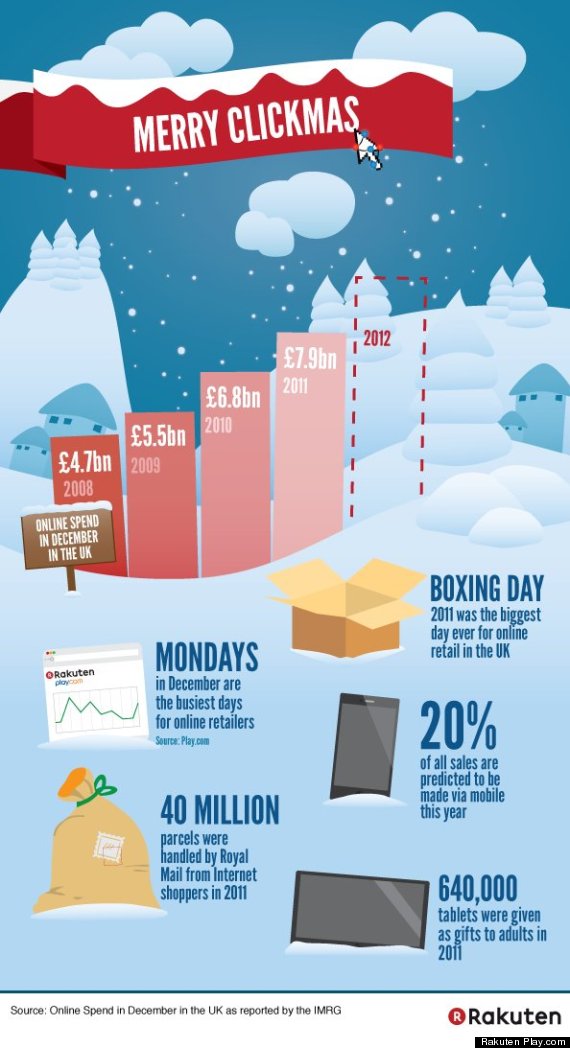 Since our report into whether Cyber Monday exists in the UK or not was published, several reports have shown we're also going to be spending less this year.
Research commissioned by Trusted Shops found more than 26% of people reported they would be spending less this Christmas compared to last year.
And Asda's Mumdex - a regular report of thousands of British mums - reported 45% of them were planning to spend less on Christmas over all.
Kids will be pleased to hear they're not missing out; the mums are planning to spend more than last year on their gifts, but will be cutting back on decorations (46%), presents for their partners (39%), and 10% aren't sending Christmas cards this year.