The number of students in England applying to university has slumped by almost 10%, official figures show.
The latest Ucas statistics reveal that almost 12,000 fewer people living in England have applied to start degree courses in autumn 2013.
In total, 107,687 potential university students have already submitted their applications, the figures show, compared to 119,548 who had applied by this point last year.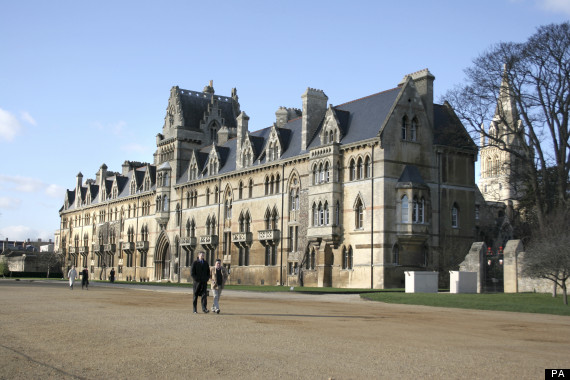 Universities, such as Oxford, have taken a hit to their applications in the wake of tuition fee rises
It means there has been a 9.9% fall in applications comparing 2013 to 2012.
Students planning to start degree courses next autumn will pay tuition fees of up to £9,000 a year.
The hike, which saw maximum fees tripled, was introduced this autumn.
The Ucas figures show that overall, applications from UK and overseas students are down by 8.4% compared to the same point last year.
Ucas chief executive Mary Curnock Cook said: "Although the number of applicants to UK higher education is down by 8% on this time last year, experience tells us that changes at this point in the cycle are a poor guide to final demand.
"For example, in the 2012 cycle the decrease in applicants in November was much greater than the final picture in January, possibly because applicants were making more considered decisions about their higher education choices after the tuition fee changes in 2012."
Liam Burns, president of the National Union of Students (NUS) said these were early figures, and he hoped they would recover.
But he added: "Significant early drops in applications in England were sustained throughout last year, unlike in Scotland and Wales.
"The Government should now finally admit that its higher education policies are having a significant impact on application behaviour.
"We have always said that students and their families aren't walking calculators capable of working out how much they are likely to repay based on hypothetical future earnings.
"Regardless of the repayment terms and the small print, students were always going to be deterred by £9,000 tuition fees."
The figures also show:
Applications by Scottish students are down 10.5%
Applications by students in Northern Ireland have fallen by 9.3%
Applications by those living in Wales have dropped by 8.7%
There have also been slight falls outside of the UK, with applications from EU students down 0.9% and those from individuals from countries outside of the EU down 0.8%.
Nicola Dandridge, chief executive of vice-chancellors' group Universities UK, said: "We should refrain from drawing too many conclusions from this month's applicant figures.
"Prospective students still have a month-and-a-half to make their applications in time for the UCAS deadline in mid-January.
"UCAS's analysis of the applicant figures from the past eight Novembers demonstrates that at this point in the applications cycle it is not possible to get an accurate picture of final demand.
"This time last year, predictions were being made that demand would drop rapidly, but by January, applicant figures had rallied and overall applications by the end of the cycle were not down by as much as many had feared.
"However, it is important that we continue to monitor closely how the introduction of tuition fees is affecting the decisions of prospective students.
"Going to university can transform lives and no-one should be put off applying because of worries about finance."
Sally Hunt, general secretary of the University and College Union (UCU), said: "It is rather concerning that the number of people applying to university appears to be continuing to fall. Everyone expected a drop last year after people postponed gap years in 2011 to get into university before higher fees. There is still time for the figures to recover, but it is a serious worry.
"The bottom line is that hiking fees up to £9,000 a year will put people off. Erecting punitive financial barriers is not the way to encourage the best and brightest to get on."
Dr Wendy Piatt, director-general of the Russell Group of leading universities, said: "It's far too early in the year to say what the overall applications numbers will be this year. It's only right that prospective students are taking their time deciding which universities to apply to and making use of all the information available to them.
"Going to a good university remains a sound investment for the vast majority. Most graduates earn a considerable salary premium over those with two A-levels, and Russell Group graduates typically receive a 10% salary top-up over those who went to a modern university."
Pam Tatlow, chief executive of the million+ university group, said: "It is very early in the applications cycle and many potential students take time to explore their options but alarm bells should be ringing in Government. If these statistics prove to be indicative there would be another downturn in university applications in 2013.
"It would be a travesty if students and their families stopped seeing university for what it is - an extraordinary once-in-a-lifetime opportunity, not just to improve career and employment prospects, but for inspiring lifelong interests and experiences."
A spokeswoman for the Department for Business, Innovation and Skills said: "It is too early in this year's application cycle to drawn any firm conclusions.
"Numbers are down across the devolved administrations and November has historically been a poor guide to changes in applications at the 15 January deadline, as Ucas make clear in their publication."