Lunch with the Dalai Lama was off the menu for ministers earlier this year after David Cameron slapped a last-minute ban on for MPs planning on meeting the exiled-Tibetan spiritual leader, according to a leaked letter.
Transport minister Norman Baker and former children's minister Tim Loughton were planning on breaking bread with the Dalai Lama in June 2012, but were halted in their tracks moments before, a programme on Channel 4 is to show.
The reported move came as crisis talks were being held with China for help with a eurozone bailout fund, in June this year.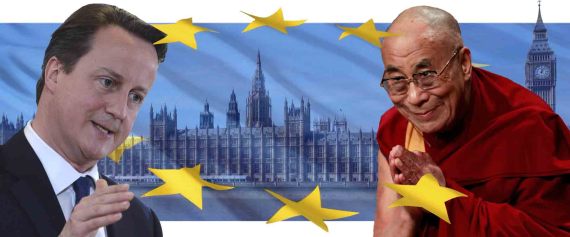 Off the menu: ministers were reportedly banned from lunch with the Dalai Lama
China eventually agreed to give the IMF's "fighting fund" around £26.8bn - or $43bn later in the month.
Baker and Loughton, who both have connections to the Tibet society, wrote a letter to the prime minister - and copied to Nick Clegg and William Hague - protesting the "blanket prohibition on a minister meeting a religious leader in private in a non-ministerial capacity."
The text - which was leaked to the Channel 4 programme Dispatches - complained that the late apologies at the "11th hour: would "not have passed un-noticed by others."
"Our absence from this small private lunch is deeply embarrassing for us in terms of our longstanding Tibetan connections, and will have been registered by the Speaker, to whom we were obliged to offer late apologies, and doubtless will not have passed unnoticed by others," it added.
"This whole affair has in our view been handled very poorly. Our presence at a small private lunch would have been in private and as such gone unnoticed. Having to withdraw from it at the last moment risked becoming an altogether higher profile affair though of course we have done everything to keep it out of public attention and I hope this proves successful."
Loughton, who was sacked as education minister in September's reshuffle, said he was banned from going to the lunch at the last minute by Jeremy Browne, who was then the foreign minister, after ignoring calls from officials.
"I can only presume that given I myself and Norman Baker were both ministers it would be in some way have been seen as some Government support for the Dalai Lama if we were to go and have lunch with him."
According to ITV News the letter shows that Number 10 was worried about upsetting the Chinese.
A government spokesperson said: "The Dalai Lama was due to visit the United Kingdom twice in quick succession earlier this year. The Chinese Government always lobbies hard against any meetings between foreign governments and the Dalai Lama.
"We made clear in advance to the Chinese Government that British Ministers will decide who they meet and when they meet them - irrespective of Chinese lobbying.
"It was never intended that any Minister would meet the Dalai Lama on his second visit. We are committed to striking a balance between taking a clear position on Tibet, and sustaining broad-based engagement with the Chinese Government.
"It is only through engaging China that we can help bring about positive change to human rights in China."
The Chinese are Coming - Channel 4 Dispatches is on at 8pm on Monday.