Manchester United manager Sir Alex Ferguson has admitted victory against Manchester City on Sunday would be one of the club's "best ever results".
In perhaps the biggest compliment the Scot has paid City in his 26 years as manager at Old Trafford, Ferguson has acknowledged the Premier League winners' "powerful" qualities and "massive" players.
Roberto Mancini's side have not lost at the Etihad Stadium in the Premier League in two years since a 2-1 December defeat to Everton in 2010, and that formidable record has compelled Ferguson to recognise the magnitude of the task ahead of Sunday's lunchtime clash.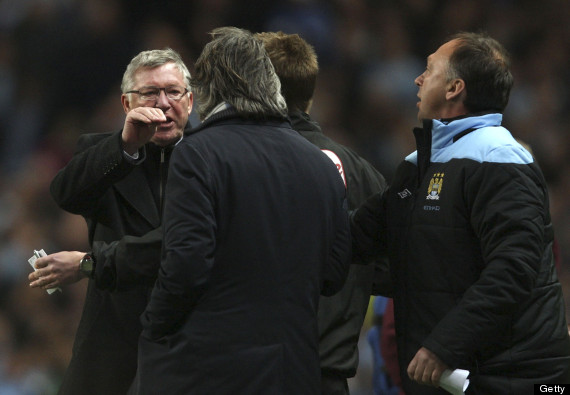 Ferguson and Mancini were embroiled in a memorable row last season
"If we win [on Sunday] it will be one of our best ever results," the 70-year-old told MUTV. "They are a really good, powerful team with massive players.
"It won't be easy and if we defend like we did at Reading we'll be in trouble. "The important thing for us is to take lessons from the mistakes we're making and do something about it. We need to find a solution."
Ferguson was criticised for a supposedly negative side he fielded at City in the clubs' antepenultimate league fixture in April. The ineffectual Ji-Sung Park started alongside elder statesmen Paul Scholes and Ryan Giggs while Antonio Valencia and Danny Welbeck were both dropped despite enjoying good form.
United are 10 points clear of Chelsea while the Blues are seven points adrift of second-place City after their autumn collapse, which saw Roberto di Matteo sacked and replaced by Rafael Benítez two weeks ago.
But Ferguson is reluctant to label the Manchester clubs' quest for the Premier League title as a two-horse race, acknowledging past collapses by his own side.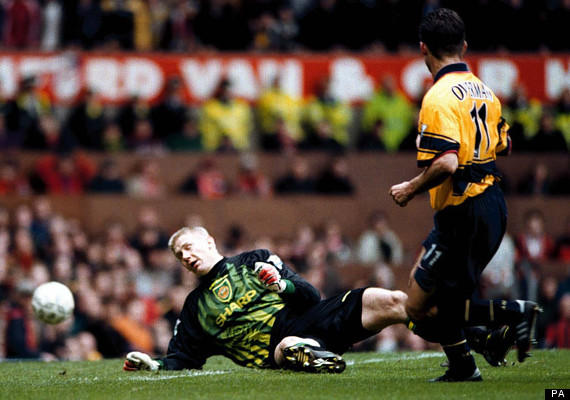 Marc Overmars' winner at Old Trafford in March 1998 was the money moment of Arsenal overhauling an 11-point gap
"At this time in the season you can't really say it's a two-horse race," he added.
"If you think back we were 12 points behind Chelsea at one point and when Arsenal beat us in the league in 1998 we were 11 points clear."
Arsenal defeated United 1-0 at Old Trafford in March 1998 thanks to a Marc Overmars strike in the second of 10 successive victories which earned them their first title under Arsène Wenger.
And last season City overturned an eight-point gap with just six games remaining to beat United to their first championship win in 44 years on goal difference.